Provence, like Tuscany, occupies an almost mythic status throughout the world. It's a brand, not just a destination in France. Its society, language and even weather are celebrated in art and literature; its populace characterized as canny, rough-hewn denizens who live a fictional, folkloric existence. If you have not grown up in the shadow of Provence, its cultural influence in France is part courtly American South (William Faulkner), part mountain-man backcountry (James Dickey).
In real life, Provence is a landscape of deep blue skies, gnarled green trees, blazing white stones, shimmering turquoise water. The gritty Mediterranean port of Marseille is like rough waterfronts everywhere, part exotic (a New Orleans-style melting pot) part practical (the gateway to the African colonial empire), smelling of diesel oil and rotting fruit, teeming with mystery and danger. Then, two hours to the east, begins the hedonistic sandbox of the Riviera, the alluring, lavender-scented fleshpots and decadent gambling dens of St. Tropez, Cannes, Nice, Monte Carlo.
In its bureaucracy, the French government has lumped the playground, the economic engine and the backcountry into a single administrative region, Provence-Alpes-Côtes d'Azur. PACA (such a snappy acronym!) covers the relatively small southeast corner of France, an area the size of Maryland between the Rhone (Avignon and Arles) and the Italian border, inhabited by five million people. Though Marseille remains the largest port in France, shipping is no longer PACA's dominant industry; the business of the future here is tourism.
And it's a big industry: 30 million vacationers generate 165,000 jobs, support 25,000 businesses and bring in 14 billion euros a year. But two-thirds of that is spending by French families, so there's plenty of room for expansion in international markets. Only 20 percent of the visitors to Provence are from abroad; the Brits and the Italians lead the way among foreigners, and they stay three times as long as the average American traveler.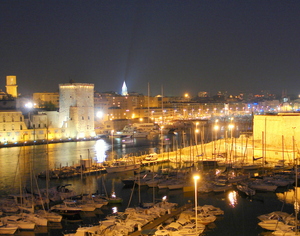 The administrative structure of PACA includes a 30-member team dedicated to defending its status as the second-most visited region in France (after Paris). A plethora of English- and French-language websites play up the sunshine and romance of the Mediterranean to local audiences. Part of the challenge is the European tradition of low-cost holidays in the south of France (vacation clubs, campgrounds and budget accommodation), cheek-by-jowl with glamorous private villas and outrageously expensive palaces. What the region needed, the planners realized, wasn't just cheap rooms but a greater number of upscale hotels.
To show off some of the region's new facilities, PACA hosted 60 tour operators from 20 countries in early November for four days of lunches and dinners of local specialties (bouillabaisse, pizza), meetings with local suppliers and sightseeing. (I was invited because I work with a tour operator based in Chicago.) Seven of the guests represented Chinese tour operators, including one, Marco Polo International, already based in Paris to host incoming delegations of official Chinese VIPs.
China! A huge market, millions of potential visitors! Earlier this year PACA mounted a full-court press, an international trade mission to Beijing and Shanghai to encourage more Chinese travelers to visit the region.Language is less and less an issue; travelers and hosts alike muddle through with English (even though the Brits, the Aussies and the Yanks combined account for only four percent of all visitors).
"We went to China with one message, that Provence exists," says Jackye Florkin, the delegation's sales manager.
As often happens in international communications, there's a single symbol that overrides specifics of language. For the American market, decades ago, it might have been Brigitte Bardot in St. Tropez; or Van Gogh's yellow "Night Café" in Arles.
For today's Chinese traveler, that icon is lavender. (L'Occitane, the French fragrance company based in Provence, already has three stores in China and was happy to provide its lavender products for the PACA gift bag.) Springtime travels to Provence when the lavender is blooming have long been a feature of Chinese group travel; PACA's Florkin is hoping to expand this to the new wave of independent travel by members of the increasingly affluent, status-conscious Chinese middle class.
"They are coming in rental cars, not coaches. They are sleeping in four- and five-star hotels. They are eating haute cuisine in Michelin-star restaurants," Florkin says. "They don't want to travel like their parents."
Hosting international delegations of travel professionals, as PACA does regularly, isn't inexpensive, but there's no hesitation on the part of those doling out public funds that this is important work. The foreign visitor spends twice as much per day as the French vacationer, so there's an incentive to attract as many international travelers as possible. Tourism along the French Mediterranean doesn't replace the traditional shipping inudstry so much as complement it: the Marseille docks are thriving, and the most recent expansion projects (as in Seattle) include several new terminals for cruise ships.
But the most important change in Provence is one of overall philosopy, a recognition that has yet to take root in Seattle: that tourism is the most important economic engine of the future. We already have the perfect icons: the Space Needle, the salmon. What we don't have yet is the right attitude.