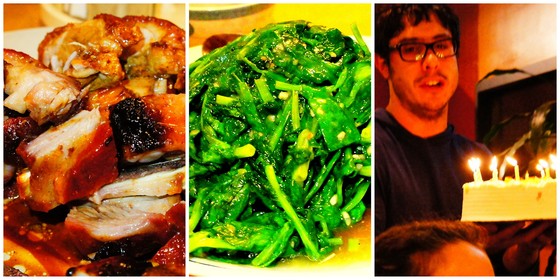 First came the traditional Christmas feasting. There are 242 items on the menu at 663 Bistro in the International District, and last night it was all we could do to eat fewer than a dozen of them. It's the to-go place for barbecue, so of course we had plates of barbecued duck and pork, hot & sour soup, curry beef, short ribs with black pepper sauce, salt & pepper chicken wings, noodles with seafood, garlicky pea vines.
One could get used to this feeling: of cultures intermingling and steam, fragrant with ginger and garlic, rising from woks and stockpots, of good will (it was Christmas, after all) and good cheer, cars jostling for parking on the street, sidewalks crowded. Not the abandoned, loveless downtown where nothing was open anyway but, once you got south of Jackson, a real city.
And when a truce was finally declared between eaters and servers, in came the annual birthday cake, accompanied by loud, festive (and irreverent) singing of "Happy Birthday, Baby Jesus!"
(And if you should find this practice--Jewish families and their entourage celebrating Christmas in a Chinese restaurant--a bit bizarre, well, rest assured it's not. Hanna Raskin has a long piece about it in Seattle Weekly; read it here.)
663 Bistro, 663 S Weller St., Seattle, 206-667-8760
Categories: