The original name was Biofournil, which sounded a little like the haz-mat squad might show up at any moment. In fact, it was the first US venture of an extremely successful organic bakery in France, based in Seattle's French sister city of Nantes.
With that combination of innocence, confidence and arrogance that characterizes entrepreneurs of all nationalities, Biofounil shipped its French bread ovens, French bakers, even a supply of its own sourdough starter to Belltown.
They picked a residential building--the Centennial, on 4th Avenue--with no parking for customers and no loading dock for deliveries. And the original configuration had room for barely ten seats: not really enough to make it a lunch spot. Entrepreneurs are stubborn, but owner Jean-Yves Fouché finally agreed to ditch the Biofournil name.
It became Boulangerie Nantaise, still an organic and very French bakery (bread, pastries) as well as a simple lunch spot (sandwiches, salads). With a young American baker, Tony Delguidice, at the ovens and a charming Frenchwoman, Mireille Nelson, as general manager, it chugged along for seven years. But when Mme. Nelson departed, M. Fouché began rethinking his options. He ordered the bakery "closed for remodeling" last December while he negotiated a sale of the majority ownership.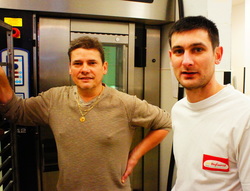 The new owner is a famous French bread-baker, Michel Galloyer, whose Grenier à Pain shops are all over Paris and the French provinces, as well as Japan, China, and Russia. Galloyer has already sent a pastry chef, Patrick Morin, to Seattle, who will be supervising a major remodeling of the space this spring (and a name change, still undecided). Fouché and Morin made the rounds of Seattle's top artisanal bakeries last week and found their ideal at Bakery Nouveau in West Seattle.
Fouché returned to Nantes last month, leaving Morin and a second French baker, Frédérick Dupont in charge. And today, Tuesday, they are reopening with a fresh inventory of breads, croissants and pastries. The signature baguette is a smaller version of the original, now weighing in at 300 grams (10.5 ounces) and costing $3.10. Larger versions are available for restaurant customers. Still ahead: a remodel of the café and a new name. Perhaps even what I've been suggesting for years: Belltown Baguette.
Boulangerie Nantaise, 2507 4th Avenue, Seattle, 206-728-1874