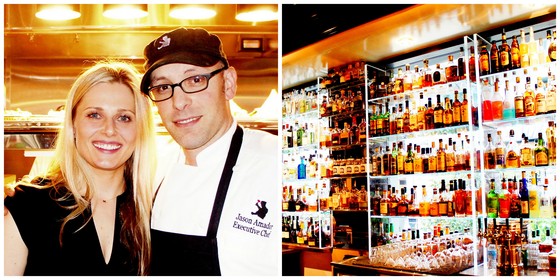 Tim Firnstahl's daughter, Merissa Claridge, and his son-in-law, Jason Amador, will be in charge of the new Von's 1000 Spirits at Harbor Steps.
Two ambitious new restaurants are opening this month, both developed by industry veterans with an old-fashioned focus on ambiance and guest-centered hospitality rather than the fussy preparation of exquisite food. Different as they are, they share a first name: Von.
See the previous post for a look at Von Trapp's. The second, Von's 1000Spirits, is the latest in a direct line from the pioneer of Seattle's serious restaurant world, Victor Rosellini.
At his iconic 1950s supper club, the 410, across from the Olympic Hotel, Rosellini hired a couple of youngsters named Mick McHugh and Tim Firnstahl, taught them what he knew, and sent them into the world to spawn their own restaurants: F.X. McRory's, Jake O'Shaughnessy's, and half a dozen more. Where Rosellini was discreet and formal, with servers in tuxedos, McHugh and Firnstahl were flamboyant and publicity-driven. But they were also savvy Harvard Business School operators who ran their stores by the book. (They've since gone separate ways but remain good friends.)
Among the McHugh-Firnstahl innovations: a fanatical devotion to the specific, detailed origin of ingredients (now considered de rigueur but a real innovation 30 years ago), and to what might be called a restaurant's "razzle-dazzle" factor. At Firnstahl's new spot, Von's 1000 Spirits, at the top of Harbor Steps, it's not just a pizza, it's a French country sourdough "fric," baked in an 800-degree, almond wood-fired oven. Vodka is "sanctified" in an activated charcoal filter mounted on the front corner of the bar. There's a row of iPads built into the bar, and the sound system plays only vintage vinyl. At the far end of the room is the grand, mirrored back-bar from Jake O'Shaughnessy, in storage for the past 20 years. The new menu has 9 "hamburgs" (including the banh mi, below), 8 frics, 19 footnotes, and, of course, 1,000 spirits.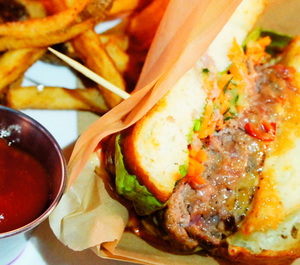 On Friday, the lineage continues with Firnstahl's daughter, "proprietress" Merissa Firnstahl-Claridge, and his son-in-law, executive chef Jason Amador, in charge of opening the new Von's. (The old Von's Roasthouse, on Pine Street for 25 years, closed at the end of last month.) Missy, as she's known, has been in the restaurant biz since the age of 15, got a degree in business administration, followed her dad's path to Harvard, and spent several years as VP Operations of the family company. Jason, married to Missy's sister, Terra, comes from the family behind Sugee's in Bellevue, purveyors of box lunches as well as bakers of the giant strawberry shortcake at Bumbershoot and Folklife. Jason's history includes sleeping on the flour bags at Sugee's as a teenager. In addition to culinary skills, he brings his family's 50-year-old sourdough starter.
The buildout of Von's took six months, transforming the former Ipanema space into a 4,300-square-foot restaurant with seating for 150 in the main restaurant plus two private rooms for 20 and 50. Happy hour, 4-6 daily, will see half-price items off the regular menu. And there's always going to be a $5 "scratch" martini.
Von's 1000 Spirits, 1225 1st Avenue, Seattle, 206-621-8667


PS: Thanks to everyone who wrote to point out that the site was down over the past week, and extra thanks to the folks at Urbanspoon who actually fixed it!