SAN FRANCISCO--Strolling from Union Square to the Financial District at twilight, you pass the the old Bank of California building; invisible guardians seem to promise they will watch your money carefully behind the stately colonnade. Under the tracks that run down the center of the street, you hear the whirring wheels that power the city's iconic cable cars; they seem to whisper a well-rehearsed welcome. "Good to see you again." "Good to be back." You pass Michael Mina's eponymous eatery with barely a glance. You're not in town for trendy or cutting edge, but for nostalgia, so you enter next door instead: Tadich Grill.
Tadich is as old-fashioned a restaurant as you can find in San Francisco. A single room with a high ceiling, polished wainscoting and a golden glow from the sconces. The hustle of a platoon of white-jacketed waiters. A bar with perhaps 20 stools runs the length of the space; on the other side, a row of tables for two, and beyond that, discretely screened for privacy, tables for four and six. The man seated to my right is visiting from Croatia, ancestral home of the Tadich family. The man to my left flew in from Milan for a conference. As it happens, we all have the house special, a big bowl of cioppino (clams, prawns, scallops, bay shrimp, crab meat, two kinds of white fish in a tomato sauce spiced with fennel, $31.25). I happily drink a glass of Ancient Peaks zinfandel. The white-haired gent who serves us, name of Ken Neary, could have been a waiter at the Last Supper, kind, patient, unflappable.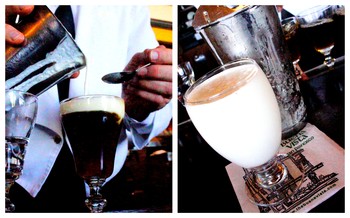 Next day, cable car ($6) from Powell & Market to the end of the line at Hyde & Beach. At the Buena Vista, another white-haired Irish barman, Larry Nolan; he's been making Irish coffee here since 1971, does it almost without looking. Two sugar cubes in a warmed glass, four or five ounces hot coffee, a good slug of whiskey and a collar of lightly whipped cream. Goes down like hot chocolate. Then there's the New Orleans Fizz (some call it a Ramos, same thing): lemon juice, orange flower-water, an egg white, sugar, cream, and a jigger of Old Tom gin. A milkshake.
At the other end of the bar, Nolan does card tricks for appreciative visitors from foreign lands. It's all in the wrist, he says.
Tadich Grill, 240 California St., San Francisco, 415-391-1849
The Buena Vista, 2765 Hyde St., San Francisco, 415-474-5044