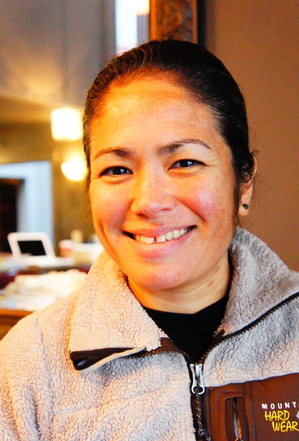 Maria Hines, who turned 40 last year, has weathered the storm of early success and is stepping confidently into the front ranks of Seattle chefs. Last December the Ohio native opened her third restaurant, joining an elite group of local women (Kathy Casey, Lisa Dupar, Renée Erickson, Tamara Murphy, among others) who have become restaurant entrepreneurs to reckon with.
After a stint at the W's restaurant, Earth & Ocean (2003), Hines opened Tilth (2005), Golden Beetle (2010) before launching Agrodolce. Along the way, a Food & Wine "Best New Chef" award, a James Beard "Best Chef Pacific Northwest" award, and, on "Iron Chef," a convincing win over Chef Masahura Morimoto.
Tilth's initial claim to fame was its certification as organic (first restaurant ever!), followed by its selection, in the New York Times as one of the ten best new restaurants of the year. Moving from Wallingford to Ballard, Hines opened Golden Beetle as a tribute to the foods of the eastern Mediterranean; she also surfed the crest of the craft cocktail wave with house-made bitters, tinctures, sodas, garnishes and infusions. That was two years ago. Restless, unwilling to settle, Hines needed a venue for a third venture.
She found it in Fremont, at the hippie hangout fondly remembered as Still Life, with an indoor tree. Renamed 35th Street Bistro, the space went through several owners, the most recent having upgraded the dining room decor as well as the kitchen. With 16 gas burners, a grill, a production island and a built-in fryer, it's a chef's dream, a true turnkey restaurant. She will run it with a staff of seven, headed by her longtime chef de cuisine Jason Brzozowy .
And what better dream than the western world's simplest yet most misunderstood cuisine, from the island in the heart of Mediterranean that Goethe called "the key to Italy": Sicily.
Hines actually wrote the menu for Agrodolce (literally "sour-sweet") before she had ever visited the island. When she finally got there, last fall, courtesy of the US State Department (she's a US Culinary Ambassador), she went straight to the Vucceria market in Palermo and bought pani con miusa: a spleen sandwich. "This is Italy's soul food," she told me.
Trouble is, many of Sicily's iconic dishes require the unique ingredients of place. This precise sort of wild mountain fennel, that precise sardine. Sheep's milk for ricotta? Unobtainable in Washington state; ovine herds here are milked for cheese, and there's no surplus.
Undeterred, Hines cast a wider net and eventually found a supplier in New York who imports sheep's milk. Hines will bring in whole sardines packed in water for bucatini con le sarde, and will make the pasta in-house. Other inspirations include housemade burrata, arancini (rice balls stuffed with meat and cheese), lamb meatballs and a housemade limoncello sorbetto.
It made me nervous, though, that Hines expressed admiration for one of the worst cookbooks I've had the duty to evaluate in the past year, Georgio Locatelli's "Made In Sicily." Locatelli's recipe, inexplicably, calls for tinned anchovies. Mamma mia!
Hines communicates with her diners in what might be described as "Seattle menuspeak shorthand." Let's take, for example, the famous pasta con le sarde. Here's an exact transcription from the menu: "bucatini | pine nut, sardine, fennel, golden raisin"
This does nothing to communicate the romance, the aromas, the complex flavors of the dish, so one assumes Hines will leave to her tableside servers the task of convincing the customer who might have the temerity to ask, "What's this bucatini thing?"
It's a school of menuese made popular by Ethan Stowell at his six restaurants. Kathryn Robinson at Seattle Met has been lamenting this trend for years. Personally I think of it as an entry in an Impressionist art catalog: "Still Life with Sardine." Or a sort of semiotic code.
TV cooking shows aside, "passion" plays a relatively minor role in the character of a successful chef. A restaurant is, above all, a business. At its least romantic, a commercial kitchen is hellish factory that transforms raw materials into products that are purchased and consumed onsite by retail customers. The feedback is instantaneous, and if you can't read a balance sheet, you're toast.
So one important key to operating a successful restaurant is a solid understanding of the economics. At Tilth, for instance, the average check is $60. At Golden Beetle, it's more like $30, which is the Seattle average. Hines told Seattle Met that she expects the check to come in closer to $40. That revenue number drives everything, as it determines what's going to be on the plate (a lot of house-made pasta). There are more Italian restaurants than any other category in Seattle, so Hines knows she has to beat the canned-tomatoes-and-garlic competition. That's Neapolitan, anyway, not Sicilian.
The real problem with Agrodolce, however, is timidity. At a lunch visit three months after it opened, a friend and I found the arancini and the meatballs to be almost flavorless, and the rabbit cacciatore to be overwhlemed by the briny olives. Dispiace, Maria, ma non era savoroso! It has to taste better than this. Even if we share an admiration for the spleen sandwich in Palermo, poor execution will deflate the balloon of ambition.
UPDATE: A new menu for Spring at Agrodolce. Brussels sprout caponata? No way. Caponata requires eggplant.
Agrodolce, 719 N. 35th Street, Seattle, 206-547-9707