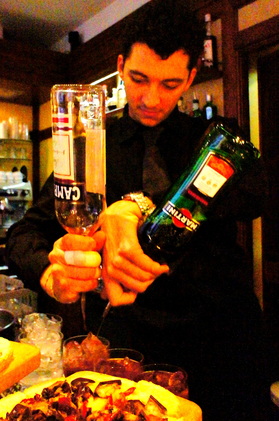 FLORENCE--Here, in the cradle of the Renaissance, there are museums and public squares filled with statues and edifices that testify to the glory of human achievement and artistic vision. And then there's the necessary stuff, like restaurants and bars and cafes (or caffès, since we're in Italy). Now, if you've been reading Cornichon with any regularity at all, you may remember this recent post about the Negroni, which came to life one day in the 1920s right here in Florence.
We're spending a week in Tuscany as the guests of the Consorzio Vino Chianti Classico, we being five American bloggers. Enroute to our first dinner last night, we stopped off at what appeared to be a showroom for a luxury clothing designer. It had taken over one of the more popular bars in Florence, the Caffè Giacosa, which in turn had replaced the Caffè Cassoni, the spot where the Negroni was created.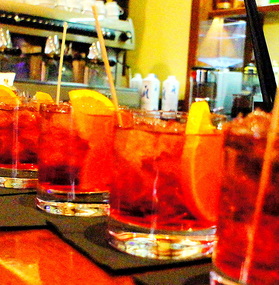 Today the bar is tucked around the corner on the Via Spada, and it sells more gelato than anything else, but beginning at about six in the evening, a steady stream of customers come in and order their aperitivi, early evening cocktails like Aperol and Campari and, of course, Negronis. Five of us, so five Negronis.
You choose your gin (Cornichon opted for Beefeater), the vermouth was Martini & Rossi, and the Campari was, well, Campari. Equal portions over ice in a big glass, garnished with half a slice of orange. Eight euros, about $10, just like in Belltown, but you help yourself to free snacks.
Okay, now we can get to work.