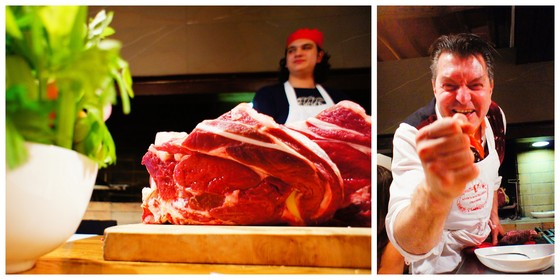 PANZANO-N-CHIANTI--Dario Cecchini, the world-famous butcher here in the very center of Tuscany's Chianti Classico wine region, has turned the upper level of his shop into a restaurant, The Officina della Bistecca.
It is a palace of meat. You start with beef tartar, move on to seared beef, then a bone-in rib-eye followed by the Panzanese steak (from the rump) and the Bistecca Fiorentina (the T-bone or Porterhouse), four inches thick. Side dishes: a bowl of raw greens (celery, etc.), a bowl of Tuscan beans with olive oil, a baked potato, a crock of "Tuscan butter" (pork fat, rosemary, garlic), and unsalted Tuscan bread. To season the meat, there's a jar of salt at your seat.
To drink, well, you can bring your own (as we did, since we're the guests of the Chianti Classico producers' association) or chug the perfectly acceptable flask wine that's on the table. There's an olive oil cake for dessert, should you make it that far (some do, some do) and a shot of grappa to send you on your way. Seven nights a week, 8 o'clock sharp, by reservation only, all for 50 euros ($65, including taxes, gratuities, and floor show).
Dario's motto: "EAT!! MEAT!!!"

Our visit to Tuscany was sponsored by the association of Chianti Classico producers, to whom we extend heartfelt thanks.