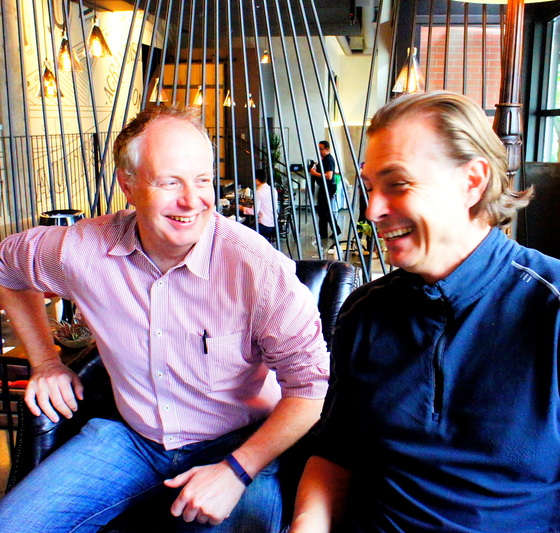 Two days before the grand opening of their neighborhood bistro, Le Zinc, on Capitol Hill, Willy Boutillier (left) and Axel Macé were showing off their new surroundings, full of innocent enthusiasm, like the proud parents of a prize pet. Roll over! Sit! Shake! Look at the murals, the tables, the ironwork, the kitchen, the absinthe collection! It was absolutely charming.
The two business partners already have a venerable spot, Maximilien in the Market. (François and Julia Kissel started it in the 1970s, Julia Child would eat lunch there on her visits to Seattle.) They started looking for a second space last fall, found the corner in the new Vox apartments (across from Anchovies & Olives) in early January and started their build-out. Seventy seats, including 12 at the bar and 12 at a communal table. A clear-eyed menu (casual French, with as many local and ingredients as possible, including plenty of mussels and traditional appetizers like bone marrow, left, almost nothing over $20). A chef, Jaron Witsoe, who's been the sous at Maximilien. A bar manager, Andy McClellan, who's leaving his post at Golden Beetle. A front-of-house manager, Parris Broderick, who trained at Canlis and Il Bistro.
McClellan's bar, by the way, has a dozen brands of absinthe and pastis (and an absinthe fountain), 13 Cognacs, plus 8 or 9 Armagnacs. The bread comes from Macrina but the butter, ah, that's made-in-house. Why take the trouble? Ah, mon ami, because we can-can-can!
Le Zinc, 1449 E. Pine (corner of 15th Ave. E.), Seattle, 206-257-4151