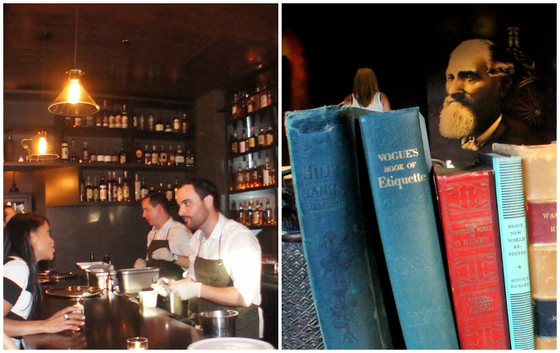 The dynamic Belltown duo of Brian McCracken and Dana Tough (Spur, Coterie Room) have moved into the Capitol Hill space once occupied by The Local Vine (and next door to Tavern Law, now four years old) envisioned The Old Sage as a palace of smoked meat. So there's Virginia ham, smoked amberjack, sockeye, and Alaskan black cod. Smoked pork cheeks, beef ribs and chicken legs. A few salads to mix things up: carrots, emmer, cabbage.
The wine list on opening night seemed a little light on local bottles, but the cocktail list, curated by Charles Veitch, kicks things up a notch.
The "Foreign Correspondent" is made with peated Scotch, yellow Chartreuse, white vermouth, lemon and strawberries, and sells for $14. The "Perfect Gentleman"? Hendrick's gin, Calvados, sweet vermouth, dry vermouth, Benedictine and bitters. Also $14. Maybe two notches.
By the way, that "old sage" in the portrait, he's not the inventor of the steam engine, Robert Fulton. Just a Seattle old timer.
The Old Sage, 1410 12th Avenue, Seattle, 206-557-7430