Panorama of Col Solare's vineyards on Red Mountain.
There's no official ranking of vineyard quality in North America, but if there were, Red Mountain would surely be Washington's Grand Cru. That said, it's neither red nor mountain. Rather, as Paul Gregutt describes it in his encyclopedic Washington Wines and Wineries, it "rises like a brownish lump of unbaked bread" at the eastern end of the Yakima Valley.
What it has, like all great vineyard sites, is that elusive combination of location, topography, soil and exposure known as terroir. Beneath a layer of wind-blown topsoil lie strata of granite, rock, clay and minerals, sculpted by glacial floods and whipped by strong winds. Vines planted here struggle to produce; the grapes ripen to a smaller size, half what a berry would weigh in Napa, with intense mineral flavors.
Cabernet sauvignon from Kiona, one of Red Mountain's oldest vineyards, have won multiple Wine of the Year awards for Quilceda Creek, and Quilceda has responded by planting 17 acres of its own vines on Red Mountain's slopes.
At the top of the slope, with vineyards radiating from the winery building (designed by Joe Chauncey of Boxwood Architects) is Col Solare, a joint venture of the aristocratic Italian wine family Marchese Antinori and the largest winery in Washington, Chateau Ste. Michelle.
The biggest of the other newcomers is a 400-acre development managed by Doug Long (of Obelisco Vineyards) and a group of investors. The reason for the increased interest: water rights. The Department of Natural Resources, which controls these state lands, sank several deep-water wells over the last seven years, and is making the water available to grape growers on Red Mountain and the orchardists and farmers further up the valley.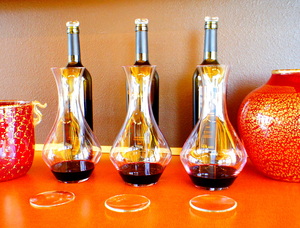 Col Solare's wines, produced from 30 acres of estate grapes, show all the elegance and restraint one has come to expect from Antinori, the softest of basket pressings, the discreet use of oak, the utmost care (no-expense-spared) at every step of production. There's a weekly tour (Sundays at 1 PM) that's open to the public, with $20 side-by-side tastings of Col Solare vintages or $26 glasses of wines from the library. The wine maker, Marcus Notaro, has just been transferred to Stag's Leap in California, but he's set Col Solare on the right path to a glorioius future.
On the horizon for Red Mountain: some sort of tourist facility that doesn't conflict with the agricultural use of the hillside. Right now, there are two charming guest houses, just outside the AVA boundary, owned by the Taptiel Vineyard folks; details here.
Cornichon's visit was sponsored by the Tri-Cities Visitor Bureau, many thanks!