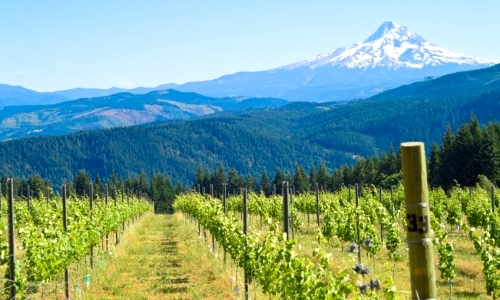 Mount Hood watches over vineyards in Oregon's Willamette Valley
Louis Jadot is one of the most respected names in France, a négocianthouse in Burgundy which sources, blends, bottles and markets wines of impeccable pedigree. This week they announced they'd purchased a 32-acre vineyard in Oregon. It's the Resonance Vineyard, owned by Kevin Chambers and his wife, Carla. Even though Louis Jadot is part of an American company these days, It's the first wine-making venture outside of France for the French firm.
For his part, Chambers has been involved in the Oregon wine industry for many years, as the lead principal of Oregon Vineyard Services and Results Partners. Turning over Resonance to the French will allow him to concentrate on a new project, the development of a larger property in the Eola Hills.
Says Howard Rossbach, who pioneered the concept of a négociant-style operation in Oregon two decades ago with his Firesteed brand, "Much has been happening in the Oregon wine industry lately. Clearly, it is very attractive to outsiders now."
Oregon has always been a draw for some of Burgundy's most famous personalities. It's been a couple of decades since the Joseph Drouhin clan placed a big bet on Oregon, buying land, planting vineyards, and sending daughter Véreonique over to manage the venture, known as Domaine Drouhin Oregon. Now another: Jadot's longtime cellarmaster and technical director Jacques Lardière, recently retired from his job in France, is on his way to oversee the Willamette Valley project.
And here's the irony: all this is happening as an increasing number of American wine makers are making their move to Burgundy. Not as land owners--that's almost prohibitively expensive--but as consultants, enologists and, you guessed it, négociants. The story's here; we'll have more in a future post.