Back in Belltown, time to range along the recently completed Bell Street park (disappointing new Chinese restaurant), follow the beat at the Croc, drop in at an old standby on Second (ahhh).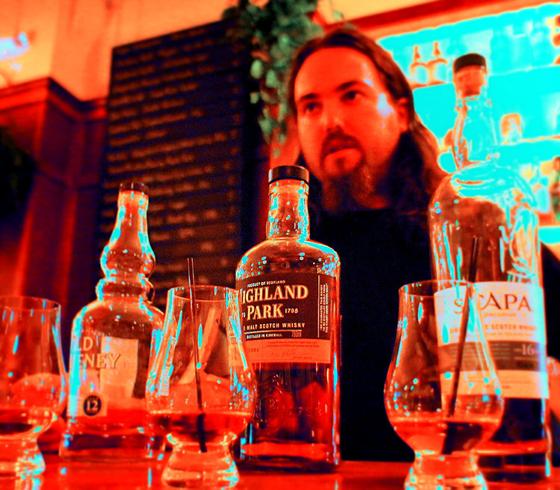 Yes, in its new location The Whisky Bar has a bigger kitchen and does more than put out a few Scotch eggs. There's now a real happy hour. And an exceptional list of beer on draught. But owners Brian and Colin Pickering (who came to Seattle from England ten years ago) have from the beginning concentrated on single malt whisky, and that's more than enough reason to drop in.
I don't know many bars that can put this many items on its list of spirits, and I think that's less than half the selection. Best bet: put yourself in the hands of the staff. My guest last night, who's planning to drive along Scotland's whisky trail, got a liquid preview from barman John Slagle (above), who had descriptors for every one of the whiskies he poured. Half-pours, by the way, to create a flight or two. Then, when all was said and done, a full dram to sip and enjoy.
The Whisky Bar, 2122 Second Avenue, Belltown, 206-443-4490
Hurts to say this, because we want to see small restaurants succeed. But Black Bamboo Palace, the Chinese restaurant that opened last week at 3rd & Bell, needs to rethink a lot of its menu and service. A selection of house appetizers at $14.95 combined overcooked beef satay and undercooked pork ribs. The vaunted, pork-filled Shanghai buns were dangerously undercooked; eventually refired, they were harder than rocks. Head-on prawns were ordered; conventional frozen prawns were served (left). Garlic eggplant was the best item, piping hot in a sweet sauce, but with no underlying flavor. Rice? Sorry, no more white rice. The menu's not online, and the Facebook page is blank. Takeout orders? Good luck.
Public note to all would-be restaurant owners: get your act together before you open. Please!
Black Bamboo Palace, 2232 Third Avenue (at Bell). No phone.