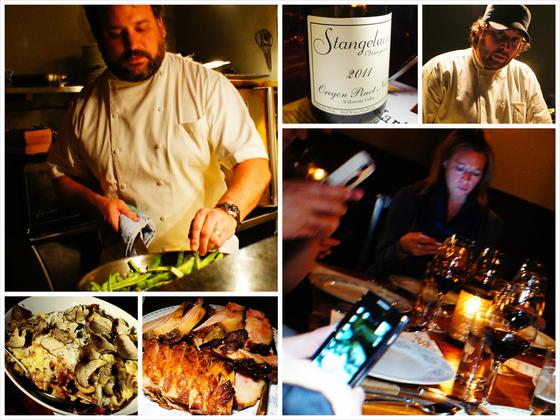 LloydMartin chef Sam Crannell, top left, welcomes food bloggers, bottom right, at a dinner hosted by Urbanspoon.
The French call the # symbol dièse; its counterpart is the musical notation b (sharp and flat). We also call it the pound sign. Social media types, as we know, refer to it as "hashtag," as in "Corned beef #" or "Making a # of things." (Just kidding, Justin Timberlake.)
Last week in Seattle, our friends at Foodista and at Zephyr Adventures teamed up to produce the fourth International Food Bloggers Conference, an annual extravaganza that focuses on food, on writing, and on technology. For three days, at a cost of $395, some 300 attendees from around the world were offered lectures (getting the most out of your blogging platform, getting the most out of your digital camera), cooking demonstrations, tastings and field trips sponsored by dozens of food and wine producers.
Those hundreds of food and wine bloggers? Most do it as a hobby. Some work for food companies or PR firms, but many have day jobs far removed from the fridge or the stove, and find refuge in the keyboard only after hours. Still, there's a camaraderie, an esprit de corps among these writers that transcends differences of geography and professional expertise.
One national restaurant-focused website, Eater.com (where I'm a contributor), was notable by its absence, while another, Urbanspoon underwrote "Surprise Suppers" for a number of the conference attendees.
Cornichon, a longtime Urbanspoon contributor, headed the delegation to LloydMartin on Queen Anne, named Best New Restaurant in 2012 by Seattle Weekly. Chef-owner Sam Crannell turned out a family-stye, three-course dinner that began with eight or nine appetizers, then a wild-mushroom pasta (with more mushrooms than fettucini), and a roast pork cornucpoia that included loin, belly and ribs. "No one has ever finished all the meat," Crannell reported.
Crannell is personally unassuming but professionally rigorous. Here's the interview I conducted with him last year for Eater.com.
The hashtags used: #ifbc for the International Food Bloggers Conference, #urbanspoon and #spoondinner for the dinner event.
LloydMartin, 1525 QueenAnne Ave. N., Seattle, 206-420-7602