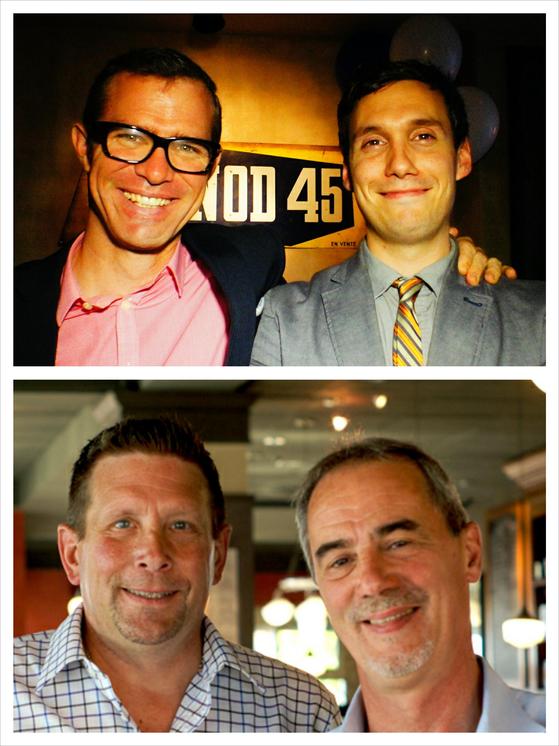 Top: March&eacute Wine Bar's departing GM Cameron Williams with his successor, William Munn. Bottom: incoming GM Mark Manca with LGBA owner Ted Furst.
General managers, no less than chefs, are the engines of a restaurant's success. They may not be in the kitchen, but they do welcome you at the door (or decide who does), they hire and fire staff, deal with suppliers, and handle all the paperwork. Sometimes they're the actual owners; more likely, they've been hired by the owners, much as the board of a corporation hires the company's chief executive.
So it's worth noting when a couple of high-profile restaurants annouce GM shifts.
At Marché Wine Bar in the Pike Place Market, GM Cameron Williams is leaving at the end of next week to join Ethan Stowell's expanding restaurant organization. Williams, a one-time professional bicycle racer, expects to turn up next at Tavolata. He'll be replaced by his deputy, William ("Billy") Munn. The announcement, comes just as Marché--formerly Campagne--celebrates its second birthday under its new name.
On the Kirkland waterfront, Ted Furst's Le Great American Bistro welcomes a new GM this week to replace Tom McDermott. The new guy, Mark Manca, is the fourth generation in his family whose name is part of local restaurant history. Manca's Café, which operated in downtown Seattle from 1897 to 1957, is the restaurant that invented Dutch Baby pancakes. He's moving to the east side's most prominent French-style brasserie just in time for cooler weather and the comfort food of of continental Europe.