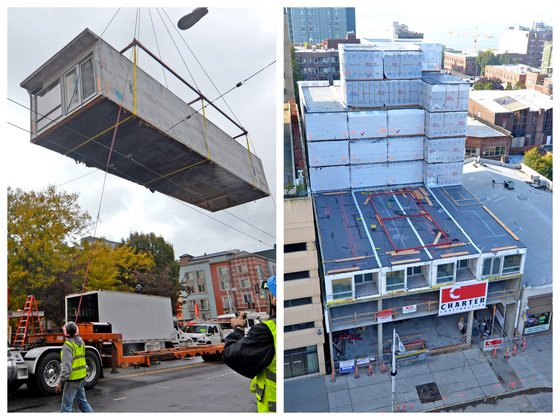 Consruction of the modular N-Habit apartments at 2217 Third Avenue in Seattle. Photos courtesy of Charter Construction.
Funny how plenty of people adore boats and RVs, with their cramped quarters, how they can't wait to spend time in their tiny, rustic cabins, yet they disdain house trailers. And don't get them started on tiny homes on tiny lots. As my son Dominic Holden reported in The Stranger earlier this year, people consider them a magnet for "sketchy people."
All this talk about "apodments" makes unwarranted assumptions. First, that they are designed for "pod people," right out of the 1950s horror flicks. Second, that prefabricated housing is somehow less worthy than a home you build yourself. Perhaps it's all the sneering at "trailer trash," or at "ticky-tacky" suburbs.
But we're a long, long way from the rugged frontier, when ax-hewing skills were essential for survival. Nowadays, to put up anything more complex than a pup-tent, you're better off calling in specialists.
Even so, you wouldn't expect a team of plumbers and welders to assemble a refrigerator or hook up your sinks from a staging zone in your living room, would you? And if you're building an entire apartment building from scratch, why do all the grading, framing, electrical and plumbing on-site? Once the lot is prepared, just bring in the pre-fab units. Especially if you're building on a 60-foot urban lot squeezed between a high-rise condo (in this case, the Grandview) and a grocery. The efficiencies benefit the neighborhood as well: much less disruption (in this case, streets only needed to be shut down over two weekends, rather than two months or more).
With this preamble, then, N-Habit is springing up, fully formed, in Belltown.
And it sure makes for dramatic TV: a giant crane dropping 14 x 30 foot, fully assembled studio apartments into place, stacking them like Lego blocks. Inside each one, kitchen, bath, and a modular living space outfitted with a unique invention: a two-sided "Abodian Wall" that converts from desk to dining table on one side, a folding bed and closets on the other.
Each studio unit is roughly 420 square feet in size and includes a balcony. The complex of 49 units will also house 3,000 square feet of ground-level retail, a rooftop deck, an outdoor community space, and a bicycle storage facility.
The project was developed by Daly Partners and designed by the Seattle architectural firm Bushnaq Studio. The modules were put together by Seattle-based OneBuild at its factory in Klamath Falls, Ore. General contractor for the operation is Charter Construction, which is also managing several projects around town, including a traditional apartment complex atop Queen Anne.
"The difference here is that modular construction allows us to complete the disruptive part of on-site work in only two weekends, compared to several months on a traditional project," said a spokesman for Daly Partners.
It should be noted that these are not undersized "apodments" that are meeting opposition in other neighborhoods; the N-Habit units are similar in size to other Belltown studios and one-bedroom lofts. They're 25 percent bigger, on average, than the units in the Moda apartments across the street. Rental rates will also be similar: from $1,125 for the studios to $1,975 for a two-level loft with a view on the top floor.
The original schedule to stack the modules was postponed because of the heavy rains at the beginning of the month. Now, with the first half of the project completed, we can expect the final units to be airlifted into place this coming weekend. Look for N-Habit to welcome its first tenants in early 2014.
If you're so inclined, here's a link to a time-lapse video of the construction last weekend: http://www.youtube.com/watch?v=qUvkNaRzdr4