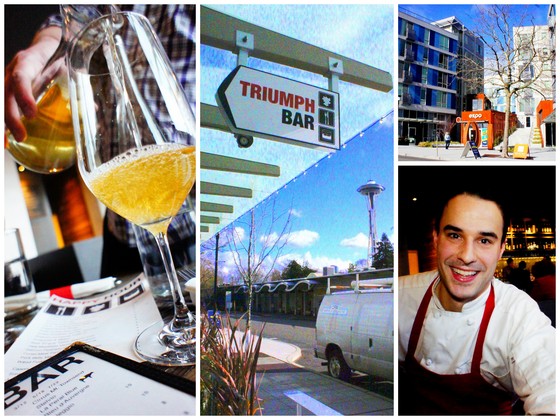 It's a big new apartment building, across from the Northwest Rooms at Seattle Center, named Expo. On the Republican Street side, there's a charming courtyard. Taylor Shellfish is moving into the space to the east, and a delightful new wine bar named Triumph is already open to the west. Sit at one of the window tables and you get a view of the Space Needle.
Triumph offers an astonishingly deep wine list, particularly strong and varied when it comes to Italian whites, so it's well worth your while to split an interesting bottle and make your way through the bar menu (cold cuts, oysters, a dozen imported cheeses, plus full dinner items like lamb osso buco). Or just drop in for a snack and a glass of wine during the nightly, 3-6 happy hour. Triumph's chef, South Carolina native Jonathan Doar, loves playful platings: one evening his special was a (deconstructed) pig's head: ears, cheeks, "head cheese," lardo. But don't be put off. Order a glass of vermentino and some Sardinian sheep's cheese, for example, and you just might feel you're in the sunny Mediterranean.
Around the corner from Triumph (same sidewalk, same building) is restaurant called Roaring Bowl, featuring a concept called shabu-shabu. This is a Japanese style of meat fondue: you swirl very thin slices of Kurabota pork or Wagyu beef in hot broth for a few seconds until it's cooked. In addition to the meat, there's a big platter of vegetables and a selection of dipping sauces. No flames; induction cooktops are built into the tables.
The number of shabu-shabu choices is staggering: half a dozen proteins (pick one), half a dozen broths (you pick two), or do something entirely different: a robota grill, for example, or a gamjatang bowl. Owner Sean Kaywood discovered shabu shabu on his travels to Japan and figured it was the perfect interactive cuisine for Seattle.
The property was once home to a QFC, now redeveloped by Seattle real estate mogul Bob Burkheimer and a California outfit, Essex Property Trust. If this sounds familiar, it's perhaps because Burkheimer was also behind the redevelopment of the QFC on Broadway. At any rate, no fewer than four eateries are slated to be part of the 300-unit Expo project. In addition to the three we've already mentioned, there's Agave, a Mexican spot, also scheduled to open in late March.
Triumph Bar, 114 Republican St., Seattle, 206-420-1791
Roaring Bowl, 516 1st Ave N., Seattle, 206-258-4914