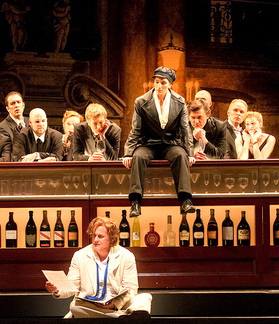 ETA Hoffmann was a real person, an important figure in German Romanticism at the end of the 18th and beginning of the 19th centuries, whose offbeat, moody short stories were often anthologized. A Parisian playwright named Jules Barbier dramatized several of them under the title "Tales of Hoffmann," which the composer Jacques Offenbach combined into an opera with a four-part, episodic structure.
A love-sick Hoffmann is the protagonist; as he waits in the lobby bar of a provincial opera house for his current favorite, Stella, Hoffman narrates his muddled pursuit of three previous, unattainable loves: a mechanical doll, a sickly singer, and a fickle courtesan, all four of whom are portrayed (in the Seattle Opera performance that opened Saturday at McCaw Hall) by soprano Norah Amsellem. In the Romantic tradition, all women are one woman, the ewige Weibliche "eternal female" to which Goethe ascribed the driving force of humanity.
In each episode, naturally, there are recurring characters in addition to Hoffmann and his wing-man Nicklausse: a series of flawed heroines (Olympia, Antonia, Giulietta, Stella), a series of dastardly villains (an evil moneylender, an irresponsible physician, a corrupt magician, a scheming politician), along with a parade of comic servants. Not since 1970, have all four soprano parts been performed in Seattle by the same artist,.when they were sung by the late Joan Sutherland. Similarly, the villains in all four settings are played by the same basso, in this case Nicolas Cavallier, suitably menacing. And Hoffmann is sung by the always-reliable tenor William Burden. who's been turning up in Seattle regularly since 2000.
But the outstanding performer in this production is mezzo-soprano Kate Lindsey, who turns the awkward and thankless double role (of Hoffmann's muse as well as his sidekick Nicklausse) into a single, believable character. In previous productions of Hoffmann that I've seen, most of the role is simply cut (even in New York and Paris) because it's a part that seems to get in the way of the four- heroines fantasy love story. Offenbach died before approving a final edition of the score, so "Hoffmann" productions can vary widely from one opera house to the next; the Seattle version provides welcome additional material for the Nicklausse character.
To Lindsey's credit, she makes an effortless transition from Hoffmann's spiritual guide (in shimmering white satin) to his youthful wingman, only slightly jealous of Hoffmann's aspirations of sexual adventure (with the doll, with the sickly singer, with the feckless courtesan and the fickle Stella), then becoming the muse again, at the end of the opera, in time to provide the final, uplifting message of Hoffmann's redemption through art.
Lindsey's first appearance in Seattle was a valiant effort in the title role of "Amelia," an earnest opera given its world premiere at McCaw Hall in 2010. She has returned a couple of times in lighter roles (Rosina in "Barber of Seville"), but seems to have found her calling as Nicklausse.
General Director Speight Jenkins, who has shepherded 169 main-stage productions since arriving in Seattle 31 seasons ago, turns over the reins to Aidan Lang later this year. His contributions to Seattle Opera are immeasurable. As Crosscut founder David Brewster wrote 18 months ago, "Jenkins, above all but hardly alone, has put Seattle on the national artistic map. His achievement, and it is very much the result of one man's total commitment to a very difficult cause in such a smallish city, is extraordinary."
"Hoffmann" may be the last opera for Jenkins, but not the final farewell; that will come in a concert on August 9th that's scheduled to feature a medley of operatic themes, including Wotan's farewell from Wagner's Die Walküre, Vissi d'Arte ("I lived for art") from Tosca and Una Furtiva Lagrima ("A furtive tear") from Donizetti's The Elixir of Love.
"The glory of opera," Jenkins pointed out in commissioning the opera "Amelia," "is the power of music to enrich words." If all goes as planned at the farewell concert, there won't be a dry eye in the house, we promise.
If you go: Tales of Hoffmann, Seattle Opera at McCaw Hall, Through May 17th (Tickets start at $25). Seattle Opera photo © by Elise Bakketun