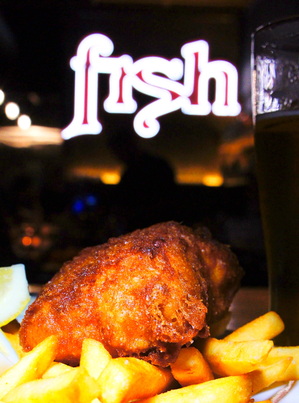 So you remember Abe Vigoda, right? One of the Corleone family's enforcers, loyal right up to the day he himself gets whacked, because it turned out he wasn't loyal after all. That face, long and angular, like a sad-eyed Afghan hound, with big eyes that seemed to say, "I love you anyway." With a jaw that dropped open like a C5 on the runway, loading jeeps. In the mid-1970s, when the producers of the TV show "Barney Miller" needed a foil for the Hal Linden character, they cast Abe Vigoda as Sgt. Phil Fish, and he became even better known. One season, they spun him off in a show of his own, "Fish." And here's the surprise: Vigoda is still alive. In his 90s, doesn't work quite as often as he used to, but alive.
Part two: there's a terrific wine bar in Paris, on the rue de Seine, called Fish. It's run by two guys, Juan Sanchez and Drew Harre, whose first venture, a sandwich shop called Così, is right across the street. (Yes, it's the original Così that spawned a short-lived chain that briefly surfaced in Seattle.) This Fish is a punster, though: Poisson is the French word for fish, Boisson is a drink. and they call this a Boissonnerie. Not quite as funny when you explain it.
Which brings us to Ballard, to the 600-square-foot space in the Kolstrand Building that used to house a bicycle shop. Ethan Stowell's Staple & Fancy is the principal tenant; the Whale Wins and Barnacle are in the back. And now Chippy's Fish & Drink, the 9th restaurant in the ESR group. Room for just 18 diners (and that includes five or six stools on the sidewalk, looking in). Chowder, Dungeness crab rolls, and, above all, Fish & Chips, which come with your choice of cod, halibut, salmon, oysters, or clams.
You can buy frozen F&C makings at Restaurant Depot, sure, and toss them into the deep fryer. Or you can use fresh fish, as they do at Chippy's. The batter coats a single substantial piece of fish (we had the cod) and provides a satisfying crunch. The fish itself remains moist and flavorful. You get a ramekin of sauce (tartar, remoulade, spicy mayo, red cocktail, etc.) to dip the fries. You don't like fish? Fine, Ballard Pizza Company is a block further up the street, and they do slices. But for late-night sidewalk fare, Chippy's is the real McCoy.
Chippy's Fish & Drink, 4741 Ballard Ave NW, 206-257-4390