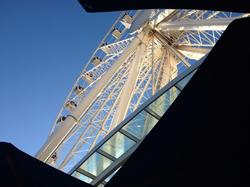 Seattle's Great Wheel, at the end of Pier 56, also known as Miner's Landing, looms over a sprawling eatery called The Fisherman's Restaurant & Bar. Its 84 tables and dozens of blue umbrellas fan out across the patio and balcony (all overlooked by a food court on the third level).
Where did you say this was? Pier 70, now known as Aqua By El Gaucho)? Nope. The Edgewater Hotel on Pier 67? Nope. The flagship Anthony's Homeport, also called the Bell Street Diner? Elliott's Oyster House on Pier 56? Ivar's Acres of Clams at the foot of Madison? Nope, nope and nope. And with that brief list, friends, we've covered every single waterfront (as in actually "on the water," not across-the-street-from-the-water) restaurant along the 1.3 miles of downtown Seattle waterfront. And I'll wager that 99 percent of Seattle residents have never even heard of Fisherman's.
On the other hand, locals are more likely to know about the Crab Pot, halfway along the same, cavernous, tourist-oriented Pier 56. The less said about it, the better. For a cool $40 per person, a server spreads out a piece of butcher-paper, then dumps a steaming pile of seafood and shellfish on your table, leaving a bucket at your feet for shells and scraps.
Then again, for not a penny more, two people could sit on the deck at Elliott's, just one block south, and build an à la carte feast of shrimp dip, steamed clams, and share a whole Dungeness crab (steamed and chilled) with a trio of dipping sauces and an array of side dishes. The view from the deck, on the other hand, isn't due west but of the comings and goings of the Argosy fleet. You want the full monte (or the full Monet, as the setting sun reflects off Elliott Bay), you'll have to push past Minnie from Minneapolis to the end of Pier 56.
The Fisherman's Restaurant, 1301 Alaskan Way, Seattle, 206-623-3500

Crab Pot, 1301 Alaskan Way, Seattle, 206-624-1890

Elliott's Oyster House, 1201 Alaskan Way, Seattle, 206-623-4340