Rob Sevcik's new Madison Valley restaurant, Petite Galerie, at 3131 E. Madison, is (at heart) an updated version of Rover's, where he was the chef years ago. When Thierry Rautureau (aka The Chef in the Hat) closed Rover's and opened Loulay, in the Sheraton Hotel downtown, Sevcik was again installed as the chef; he left to pursue plans for a restaurant of his own. After an overly ambitious kickstarter campaign for a spot on Capitol Hill fizzled, Sevcik scaled back his plans (hence the "Petite" modifier), which have now come to fruition in the Arboretum Court space formerly occupied by the Oh Chocolates shop. Plenty of windows, lots of light, soft pastel linens, and a dining experience that's focused on haute cuisine.
The menu, based on local ingredients, is nonetheless very French in its spirit: small plates, exquisitely prepared, elegantly presented, and (ahem) on the high end of high-priced; you may want to check your credit card balance at the door. The antithesis of short-order bar food, its spiritual siblings in Seattle would be Altura, Copine, and Eden Hill. The neighborhood has another white-tablecloth restaurant at the end of Madison, Park Place, which took over from Beach House late last year, but it's a more traditional dinner spot, not a temple of gastronomy like Petite Galerie.
The kitchen sends out a glass of pink bubbles and a little nibble of salmon to start, very comforting. Bread (Grand Central bakery) and whipped (unsalted) butter arrive in due course on a plate festooned with half a dozen radishes drizzled with olive oil. Great! It's a typical French appetizer nosh, but it does need salt. You dip the radishes in the salt, add butter, and chomp down. Without salt, you kinda miss the point. I can't recall ever having been served this in a gastronomic restaurant, though.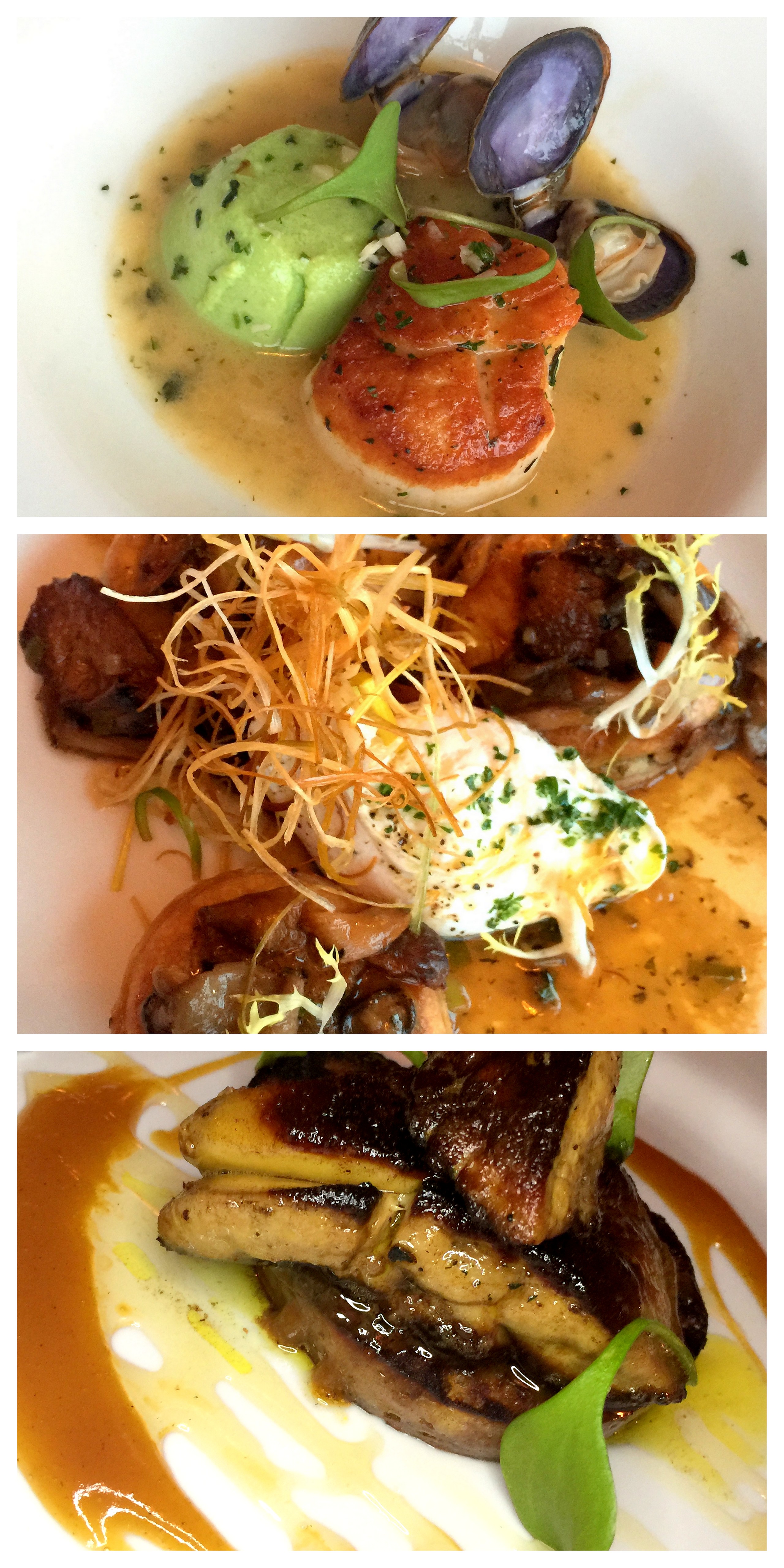 Once the festivities get underway (and they will, just be patient), your actual meal might start with a pan-seared sea scallop (just one), which arrives awash in herb-flecked butter flanked by a scoop of sweet pea mousse and a pair of yawning Manila clams. The scallop, $24, is one of four "Sea" items on the Petite Galerie dinner menu; there are three more categories "Land," "Earth," and "Heaven." Three of the "Heaven" items are desserts (a pineapple panna cotta, a chocolate mousse, and a baked apple), but the fourth and final entry is the link to the old Rover's: foie gras. At Petite Galerie, the kitchen stacks the pan-seared foie gras slices atop an Asian plum and cinnamon bread drizzled with spiced honey, $25. (At Loulay, the foie gras is served with a huckleberry pancake, two bucks less.) The almost mandatory accompaniment was a glass of Sauternes, so the total cost of this one dish was just over $40.
Two of us opted to share four items. Following the scallop came a trio of puff pastries filled with wild mushrooms in a reduced madeira sauce accompanied by a poached egg. The egg yolk enriches the dish, though it doesn't really need it. While we waited for our next item, a quail stuffed with an herbed mousse, the kitchen sent out a cabbage roll filled with fresh cheese, the least interesting dish on the menu.
The wine list, selected by service director Tish Taitano, included by-the-glass whites from Spain, northern Italy, Burgundy and that lovely Sauternes; on the red side, fine examples from Beaujolais and Piedmont. The cocktail list emphasizes smokey liqueurs like Mezcal and Amargo de Chile.
I should know by now that it's nonsensical to complain about prices, so I won't, except to acknowledge that there are, in fact, a few more expensive places in town. Canlis, The Herbfarm, the Space Needle; steakhouses like El Gaucho, sushi parlors like Kashiba, But Petite Galerie claims its pricing is "approachable," so what about lunch? Lunch should be more reasonable, right? Indeed so. Raclette is $12; a charcuterie plate is $14, a bowl of soup (cauliflower or lentil) is $9, a bottle of ale is $6.
The point, though, is that Petite Galerie aspires to something more. Higher. Transcendent, even. Think back, if you can, to William Belickis at Mistral when it was still in Belltown. To Thierry Rautureau when he first took over Rover's. To Scott Carsberg at Lampreia. The intensity of a single chef's vision. That's the goal Sevcik seems to have set for himself, and we can be thankful that he's going for it in our neighborhood.