What's wrong with Seattle journalism? Look no further than the front page of today's Seattle Times and its pathetic story, headlined "They Needed a Six-Bedroom House".
Memo to the Times city editor: the time to run this would have two weeks ago, when it just might have been useful. But then, you guys were too focused on screechy-preachy pieces about the teen dance ordinance, weren't you? Better late than never? Nonsense.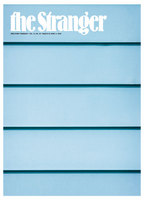 Blue House on Capitol Hill
photo by Jimmy Clarke
The Stranger got it right the first time, without tone-deaf "Merry Prankster" references, thank you.