Literally at the last minute, Chicago chefs are looking up from their sauté pans and asking, "Hey, why you guys picking on me?"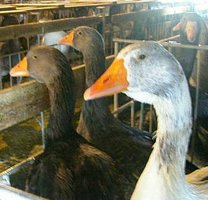 Foie gras on the hoof at a farm in the Dordogne.
The Windy City's fatwah against foie gras is slated to go into effect next week, but it's taken months for restaurant owners to take matters into their own hands. The Artisan Farmers Association and a new group called Chicago Chefs for Choice announce they'll challenge the ban. The local restaurant association weighs in as well, saying, "We believe the City Council does not have a right to tell people what to have for dinner."
If we believe in keeping the government out of our bedrooms, we shouldn't let them inspect our dinner plates, either.