Elegant new white-tablecloth place atop Queen Anne, Sorrentino, courtesy of a well-established Seattle restaurant family (La Vita è Bella, Mondello, Ballard's new DiVino wine bar). Italian, of course, all-but-forgotten regional dishes little-known here, created and executed by owner and guiding spirit Enza Sorrentino. Couscous with lobstertail, shrimp and generous side dish of fresh marinara from Sardinia, for instance. Risotto with duck, ravioli with cod or crabmeat, a real vitello tonnato; traditional osso buco in a saffron and orange sauce, unusual polpo (octopus) in a green sauce.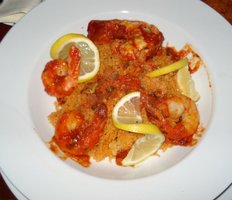 Mamma Enza does recipe research for Sorrentino's; shellfish couscous awaits tomato sauce
As the menu explains it:
For Sicily, geography has always been destiny. The rocky isle, a land mass the size of Vermont, rises from the Mediterranean like a giant pebble kicked by the toe of Italy. Phoenicians, Greeks and Romans viewed it as a strategic military and cultural outpost.

Ringed by rich waters and covered with dense forests, amazingly fertile hillsides and ancient vineyards, Sicily is both a crucible of original recipes and a melting pot of culinary traditions.

Enza Sorrentino grew up in Palermo, among the small farms, vineyards and fishing villages of the Mediterranean coast. For the past few years, in much-loved neighborhood restaurants like La Vita è Bella and Mondello, Enza and her family have served as culinary ambassadors, bringing the spirit, flavors and hospitality of Sicily to Seattle.

Now, at Sorrentino's Trattoria, Mamma Enza, alongside her son Fabio, expands her repertoire to a range of historic, traditional, antique and forgotten dishes that honor regions across Italy: Friuli, Lombardy, Latium, Campania and Apulia as well as the islands of Sardinia and Sicily.

"There is so much more in Italy and spaghetti, risotto and pizza," is Mamma Enza's motto. It could be the opening salvo in her mission to broaden Seattle's appreciation for Italian cooking.

More than simple generosity, it's abbondanza: a surfeit of good things to eat and drink. For everyday, a lavish buffet. For gala occasions, a cornucopia of antipasti, multiple courses of pasta, endless meat and vegetable platters, and an infinity of desserts. Mangia! they say. And, good guests, you should!
There. Couldn't have said it better myself.

Family & friends surround Enza before the official opening of Sorrentino.
Sorrentino, 2128 Queen Anne Ave. N., Seattle 206-694-0055
PS: You can vote once very 24 hours in an informal poll on LocalWineEvents.com for your favorite wine & food blog. Help keep Cornichon.org in the top three! The ballot is here. Thanks!