Aroused Americana, the latest cookbook from Seattle's cheerfully over-the-top icon Grill is a collection of recipes by corporate executive chef Nick Musser, the good-natured dude in charge of the kitchen at icon and its offspring, Zephyr Grill in Kent. It's as high-spirited as the restaurant's kitschy décor and boffo plates, described last year as Seattle's best "comfort food" by AOL subscribers.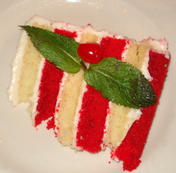 Cookbook, Nick Musser, duck breast, candy-cane cake
Dishes like velveeta-infused mac-and-cheese and bacon-wrapped meatloaf do inspire a certain awe, especially when the mac-and-cheese is breaded and fried. True believers adore concoctions like the Holiday Candy Cane Cake with alternating red and white layers (identical except for food coloring), frosted with peppermint cream cheese and garnished with Marsachino cherries.
Musser, bless his soul, was once named Husband of the Year by a national magazine. Chris Keff hired him to run the kitchen at Flying Fish. At icon, his seared duck breast with barley & mushroom risotto shows admirable restraint. And the rest of the menu, long on sweet and smokey flavors, probably does qualify as Aroused Americana Cooking for a lot of folks whose regular fare is Domino's.
Indeed, icon fills a void in foodie-obsessed Seattle: a spot for suburban shoppers, overnight businessmen at the Westin and tourists from the motor inn across the street, uncertainly yearning for some Big City excitement. Go ahead, folks, take a chance and run under the Monorail. It probably won't hit you.
iCon Grill, 1933 Fifth Ave., 206-441-6330