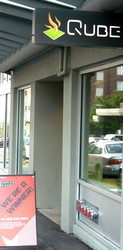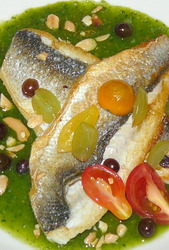 Mid-town, mid-summer might not strike you as the best time to launch a restaurant. You'd be wrong. That doesn't mean, however, that the food lives up to the concepts.
Spur has opened where the Mistral once wafted. Billed as a gastropub, the opening menu is one item short of a baker's dozen. Terrific cocktails from the hand of bar manager David Nelson (late of Marjorie), but weird plate of pork belly sliders, overly salty and pretentious with treacly, smoked orange mustard on the inside, redundant ribbon of sherry reduction on the plate, topped with bitter greens. And it's expensive--$13 for two sliders. Co-chefs Brian McCracken and Dana Tough have sound credentials, so one would hope to see better things here.
Branzino (the fish) has finally made it to Branzino. (the restaurant). Sorry to say, it wasn't worth the wait. Had an order late one night, chef Ashley Merriman nowhere in sight, must have gone home. Fish was way underdone, but it's doubtful that even a proper cooking would have saved it from a misconceived presentation: something called "green gazpacho," with almonds and champagne grapes. Simultaneously too bitter and unnecessarily sweet. Not surprisingly, the Pee Eye's tongue-tied, taste-deaf resto critic, Leslie Kelly, loves it.
Look for Kushibar to open in a couple of weeks with 40 feet of newly-built sidewalk patio along Second Avenue. Billy Beach of Umi Sake House will be exec chef, menu to feature Japanese-style skewers of grilled meat. Also ramen, a challenge to Noodle Ranch (described earlier as the "Dan Quayle of noodle parlors") just across the street.
Two-year-old gastropub Black Bottle (which sells very tasty pork belly with kim chi for just $9, by the way) is about to turn the adjacent storefront (mothballed since the place opened) into a 32-seat private dining room. Customer demand, says co-owner Chris Linker.
Buckley's is moving into the space occupied by Marjorie at Second and Battery. sometime in November. It's not a "move," per se; the original Buckley' will remain on Lower Queen Anne, rather, it's a homecoming of sorts for owner Tim Buckley: he was one of the last managers at the old Belltown Pub.
But it's not all summer sunshine. Qube, the well-meaning but quirky French-Asian restaurant at Second & Stewart, has served its last exotic cocktail. No surprise that owner Fu-Shen Chang blames the economic downturn.