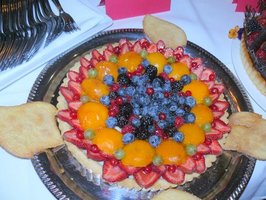 Above: winning Boulangerie Nantaise tart, Tony Delguidice. Below: Patrick & Alyssa Lewis, Enza Sorrentino's fruit crostata.
Ah, summer, when a chef's fancy turns to thoughts of fruit-filled pastry.
We begin with a medley of tartes aux fruits entered in the inaugural Francophile Fruit Tart contest, sponsored in connection with Bastille Day by the French-American Chamber of Commerce. The winner--selected by a panel of chefs and food writers--was Boulangerie Nantaise, the Belltown bakery & coffee shop previously celebrated for its baguettes. Pastry chef was Tony Delguidice, who's been baking around town for 20 years, and at his current post since 2001.
Next comes Alyssa Lewis, with a decade of baking in Snohomish behind her, and husband Patrick, a home-builder looking for an alternative career now that home-building's in the tank. They've just opened Seattle Pie Company in Magnolia Village, where they mix up over 100 pies a day in a baker's dozen different fruit and cream flavors (roughly $15 apiece, $3.50 a slice), ranging from "Microsoft Apple" to blackberry to "Lemon Cloud."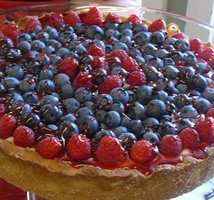 Seattle Pie also sells meatloaf sandwiches for lunch, the bread coming from a deli in the same building, La Mondellina, whose chef and baker is none other than Mamma Enza, of Sorrentino's on Queen Anne. (She and her son, Corino, owner of Magnolia's charming Italian bistro, Mondello, are partners in La Mondellina.) For good measure, Mamma bakes her own crostata di frutta with a short crust, pastry cream and berries from the neighborhood farmers market.
A sweet suite, wouldn't you say?
Seattle Pie Company, 3111 W McGraw, Seattle 206-718-2591

La Mondellina, 3111 W McGraw, Seattle, 206-282-4423