There's so much going on at Toulouse Petit, a New Orleans-themed brasserie that opened last night at Queen Anne & Mercer, you don't know quite where to start. A year in the building, you can see the effort on the walls, the floors, the table tops, in the platoons of staff and the extensive menus (food, wine, cocktails, happy hour, with breakfast and lunch still to come). There's something for every wallet here, starting with a fatcat's $42 steak (filet with foie gras, veal-cognac-shallot reduction, white truffle oil). For the frugal, the happy hour menu offers boudin blanc ($4), spicy fried alligator ($5), lamb's tongue en remoulade ($6); for the spendthrift, a blackened USDA prime rib eye ($18).
The dreamer behind this flight of fancy is next-door neighbor Brian Hutmacher of Peso's Kitchen. From the outside, Toulouse looks like a green stucco box full of Christmas ornaments. Inside, it's warmly lit and inviting, with filigreed ironwork and inlaid wood, considerably less clunky than the Purple (and Barrio) models of overwrought restaurant decor.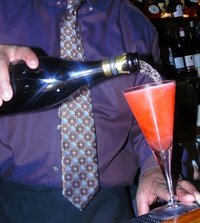 Are you counting? The floor is made up of 18,000 Italian mosaic tiles. Are you eyes open? The bar is inlaid hardwood, the lamps are blown-glass, the walls hand-plastered. Artisan sculptor Eddie Gulberg created original metalwork for the windows, doors, tabletops, and fixtures. Chef Eric Donnelly, last seen at Oceanaire, built the kitchen and laid the tiles himself. Six other craftsmen are credited on the menu. Oddly, despite having tasted over 1,500 wines to assemble a list of perhaps 200 bottles, GM Shing Chin (formerly of Wild Ginger and West Seattle's Ovio Bistro) comes up with not one wine within 100 miles of Toulouse (nothing from Fronton, Madiran, Cahors or Gascogne). Okay, so you're all about Nawlins (NOLA's Abita Amber's a good start on the beer side), not France, but how hard would it be to give your wine list a regional focus as well, the way Le Pichet does? .
The menu is the most ambitious Cornichon has seen for some time, with salads, soups, fresh oysters and shellfish platters, foie gras, tartare, housemade charcuterie, artisan cheeses, 10 seafood standards and 5 more seafood specials, half a dozen poultry items, ten steaks, 6 accompaniments (béarnaise, bleu cheese, horseradish-veal demi-glace). The bar offers 7 absinthes, 6 pastis drinks, 5 sherries, and a dozen house cocktails. For the bitter or the lovelorn, there's a cocktail called Bitter Love (Plymouth gin, Campari, strawberry syrup, orange bitters, prosecco, $9); alas, it's too sweet.
If this is supposed to be Toulouse Petit, we can only imagine what Toulouse Grand might be. A stupendous Vieux Carré breakfast, perhaps? Or just beignets? "Previously accepted limitations no longer apply," says the menu. Stay tuned.
Toulouse Petit, 601 Queen Anne Ave. N., Seattle, 206-423-9069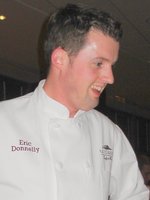 Above: Brian Hutmacher (Flickr photo via QueenAnneView), Eric Donnelly, Edward Gulberg;
Center: Barman Joe Jeannot pours tops up Bitter Love with prosecco
Top: daytime interior (Flickr photo via QueenAnneView); Toulouse after 10 PM