With just about 80,000 residents, Victoria has a population roughly the size of Bellingham, with tourism as the second-largest industry (high tech is first). For all that, it has an impressive number of distinct neighborhoods, each with its own shopping street and local watering holes. Fernwood has the comfortable, small-town feel that Seattle's funky Fremont used to exude, with art galleries and cafes, a noted theater (the Belfry, in a former Baptist church), a spruced-up, half-timbered pub (the Fernwood Inn), and a couple of wine bars: brand-new Lisa's and year-old Stage, the second of our Victoria's Secrets. Once again, here are Cornichon and Hedonista.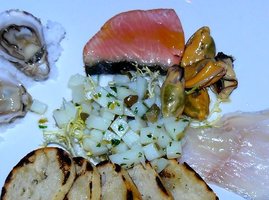 CORNICHON says: George and Linda Szasz faced a Sophie's Choice: which of their babies, Paprika or Stage, would they keep? They already lived in Fernwood, so the decision was relatively easy, but they knew that a new owner would want continuity in the kitchen. Their solution was to hire Anna Hunt and train her at Stage, then move her to Paprika.
Meanwhile, they reinforced their concept at Stage: a neighborhood gathering place with a short list of carefully chosen wines by the glass (7 whites, 8 reds, not an endless list of fancy bottles), house-made charcuterie, local cheeses, and a dozen or so small plates (none over $12) and a couple of sampler platters (one fish, one meat, $15). On the seafood platter, the cold smoked salmon (cured with rosemary, sugar and citrus zest) was almost unbelievably juicy. The traditional wine pairings included a California sauvignon blanc, an Austrian grüner Veltliner and a fabulous riesling from the Mosel, Dr. Pauly Bergweiler, at $8 a glass.
On the charcuterie plate, a stunning porchetta di testa (there's a great blog post about making it here by a New York chef). Stage's porchetta was presented in a cloud of Reggiano shavings and slivered radishes and melted in your mouth. A tempranillo from the Rioja was offered, but we stayed with the riesling and its bracing acidity.
Locals started drifting in shortly after 5; by 6 the place was packed. Seattlites would recognize the décor, exposed brick similar to Belltown's Black Bottle gastropub, and appreciate the ambience, as befits Canadians, a lot quieter.
HEDONISTA says: OK, I have to confess - I have a total "couple crush" on Linda and George. I love these guys as much as I love their culinary children, Paprika Bistro and Stage. Stage - short for "stage productions" - is just what you get in this heavenly 'hood, with the Belfry Theatre only a block away. They opened Stage on July 7, 2007 and ran both "babies" for 18 months before handing their eldest of the two off to Geoff Parker in January 2009.
Now, George comes from many generations of cured meat production: his parents ran Szasz Deli in Vancouver for over three decades, while his grandparents (on his father's side) operated a salami factory in Szeged, Hungary. The result of these many generations has now culminated within the exposed brick walls of Stage. Their "Charcuterie by George" - a playful spin on Cookies by George (available throughout North America) - rocks the palate, in both taste and texture. My fav by far was the porchetta de testa - and yes, that's headcheese made with the head of a pig, dear hedonists (please do expand your horizons) ... luscious and delicious ... way beyond perfect. And his smoked ham easily ranks among the top five best I've ever tasted. (Ever.) And, while on the topic of perfection, the smoked salmon and the kushi oysters - the latter served with a mignonette of lemon zest, fennel fronds, brown sugar and salt - tasted just like heaven should (and also melted in your mouth).
But let's not stop at Stage's savory fare; for Stage's sweet is also worthy of note. There's the usual suspects - crème brûlée and chocolate pât7eacute; with raspberry coulis and crème fraîche. But the goat cheesecake is worthy of note: served with lemon curd & pistachio biscotti - revealed a nice balance of the "baaah" bite of the creamy goat cheese, the tangy tartness of lemon curd and the pistachio-laden crunch of the biscotti. The perfect end to a perfect culinary evening.
Want perfection? Go to Stage ... and be sure to ham it up!
Stage Wine Bar 1307 Gladstone (at Fernwood), Victoria BC, 250-388-4222