Just a few blocks from the well-known tourist attractions of Victoria (Empress, Royal BC Museum, Parliament Buildings, Undersea Gardens, Wax Museum, etc.) lies James Bay, the oldest residential district (north of San Francisco) on the west coast of North America. And it's here, on a damp, overcast Wednesday night, dolled up in vintage attire, that Cornichon and Hedonista found yet another treasure: The Superior.
HEDONISTA says: Ever since I first tried this wonderfully whimsical place, I'm now happy to say that I'm as close to a regular as one who now lives in Seattle can be. A small plates eatery with a focus on small local food producers and BC beer and wine, The Superior supports local artists and musicians. From the peaceful patio to the always-interesting interior, The Superior - which opened in October 2005 - is all about the ambiance. In fact, the entire restaurant serves as owner Lisa Boehme's own personal canvas, which she redesigns seasonally (or whenever the mood takes her). Her goal as an artist and visionary: to challenge people to think outside of the box, to change the way one thinks and, by doing so, to make the world a better place.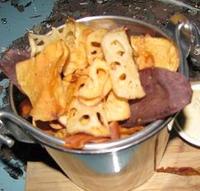 Much like the interior and exterior, the menu at The Superior Café is also a blank canvas; for, here, art is food and food is art. Not over the top, mind you - just good, creative-yet-simple small bites served up with an artistic eye. They do weekend brunches (10:00 a.m. - 3:00 p.m.) and evening meals Tuesday through Sunday (5:00 p.m. 'til "late"). (They don't currently do lunches.) They do offer a "soup of the moment." And their menu changes up weekly. In the evenings they host art and cultural events, be they movies, music, or even dating games.
That night - in my crushed black velvet dress, black stockings and patent leather Mary Jane-heeled shoes tied with black ribbons - we enjoyed the 1941 flick The Maltese Falcon - complemented by their version of a Cosmopolitan, sans rose: white cranberry juice, cointreau & vodka, served up with a lime wedge. Very nice - think gin & tonic meets lemonade.... Their noshies are very pleasant - their root chips, for example, get on like a house on fire with their beer, wine, and spirits ... not to mention their film noir (think a creatively classy alternative to the traditional movie fare of potato chips and popcorn).
CORNICHON says: Film Noir night at a cafe just off the Inner Harbour. Film noir as in Bogie. It's been almost three-score years and ten since the great writer-director John Huston and his gang of players (Bogie, Sidney Greenstreet, Peter Lorre) launched their concept: hard-driving, fast-talking, high-contrast urban adventures. Guns, dames, cigarettes, booze. Quick cuts interspersed with long, long takes. Actors who created dark characters; scripts that told a dark story.
Thus does Cornichon find himself, of a Wednesday evening, in ascot & leather jacket, watching the iconic Maltese Falcon. Best supporting actor for Greenstreet in his first movie. Bogie misquoting Shakespeare ("The stuff dreams are made of") as the elevator takes Mary Astor away.
Lights up and The Superior's owner, Lisa Boehme, appears. We recognize her--don't we?--from Toulouse-Lautrec's sketches of Paris nightlife: a savvy dame who plays the role of a slightly loopy femme fatale.
Superior's lofty space across from Fisherman's Wharf Park was built as a gathering spot for under-age, off-duty seafarers; later it became a Unitarian church. Now it's an arty restaurant, an elcectic performance venue and unofficial community center. Hundreds of shoes festoon a tree in the courtyard: a fundraiser for battered women, an expression of Lisa's open-hearted, California-girl, earth-mother personality. There's food and drink here nightly, as well as a popular weekend brunch. Organic, of course. A "culinary artist" named Torin Egan's in charge of the kitchen. But the spirit of the place comes from Lisa, self-described "visionary," who has the creativity to keep all the wheels spinning without going off the tracks.
The Superior, 106 Superior St., Victoria, BC, 250-380-9515