Win a sterling silver Wine Bottle Collar! Click here for contest details.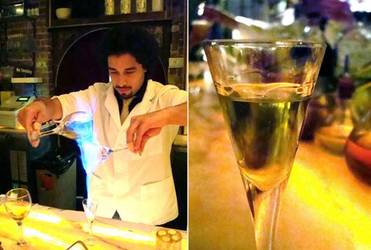 Orson Salicetti is a Venezuela-born mixologist in New York who won a Rising Star award this year from StarChefs.com; the online bio and interview are (unintentionally) hilarious. He's behind the bar at Apothéke these days, a downtown joint that takes its cocktails super-seriously ("It's a stage, it's a chemistry lab") and has a publicist to send out breathless press releases whenever Salicetti shakes up a new one. His latest concoction, called Signature 2010 Cocktail, is "infused" with Champagne, elderflower jelly, agave and "healthy hibiscus."
Reads the press release: "Salicetti pushes the boundaries when crafting new cocktails by incorporating food into cocktails, infusing drinks with octopus, caviar, oysters and shrimp. Currently his favorite drink to serve is the tomato basil martini which is a combination of cherry tomato water, basil, gin, Himalayan salt rum, hibiscus bitters, Lillet Blank, agave lime syrup, and peppercorns."
This didn't sound particularly healthy (or even appetizing) to Cornichon, so we checked in with Robert Hess, our local cocktail guru, who points out that it's a Himalayan salt rim, not rum...and Lillet Blanc, not Blank.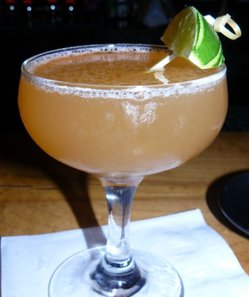 On the other hand, oyster shooters have been around for a long time, and Hess admits that he himself has used lox as a garnish on more than one occasion. So maybe it's not too weird after all?
"For Salicetti," the press release concludes, "his concepts are authentic, real and original, he believes his drinks are similar to the holidays, they should stimulate the senses, create an emotion and leave an impression, and a drink should be something you do not forget."
Then again, there's Pegu Club, where the doyenne of cocktailing, Audrey Sanders practices her craft. We stopped in a couple of months ago when were were in the Big Appletini; lots of comfortable, low seating (like Seattle's Local Vine), and a fine bar where we sipped a series of carefully made beverages, starting with (of course) the icononic Pegu Club Cocktail (gin, lime juice, orange curaçao, bitters), named for the original Pegu Club in Rangoon. Pegu Club was named Best American Bar this summer by Tales of the Cocktail; one expects that Ms. Saunders would be moritified by her Soho neighbor's blasphemy.
Apothèke, 9 Doyers St., New York City

Pegu Club, 77 W Houston, New York City, 212-473-7378