It's a lively block, this stretch of Madison Valley: takeout pizza, takeout teriyaki, a dry cleaner's, a French bistro (Voilà!) a French creperie (La Côte), a fancy French dinner house (Rover's), an Asian cafe (Chinoise). There's vegetarian (Cafe Flora) a block in one direction, Spanish tapas (Harvest Vine) a block in the other. Good bread, too (Essential Bakery). There used to be a frame shop at the corner of East Madison and MLK; and you'd drive past it thinking it would be the perfect spot for a bar.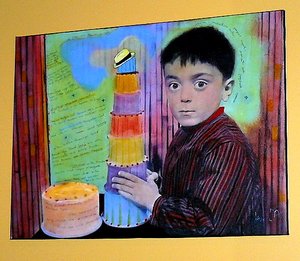 At least, Thierry Rautureau thought so. He knew the neighborhood, since he's been the Chef in the Hat at Rover's for nearly a quarter century.
A neighborhood bar, then, in the French style with a zinc-topped counter, open late, not expensive, with local wines (literally, from Wilridge just up the hill in Madrona) and familiar dishes like boeuf bourguignon available to go (on real china). Regulars from the Rover's mailing list were offered the opportunity to buy $1,000 shares (technically, gift certificates). The name? Luc, Thierry's father, who passed away four years ago.
The painting? A photo of young Thierrry, already thinking of his hat, surrounded by books, with chapter headings from the cookbook he would eventually write (with Cyntha Nims). The artist was Isa D'Arléans, a Madison Park neighbor, whose brother Cyril Fréchier was the sommelier at Rover's for two decades.
There's a simple à la carte menu, along with a rotating list of specials to be shared: a whole roast chicken, a Dungeness crab, braised beef tongue, a leg of lamb, a pork shoulder, portions large enough to serve three or four, for a perfectly reasonable $30.
Luc, 2800 E. Madison, Seattle, 206-328-6645