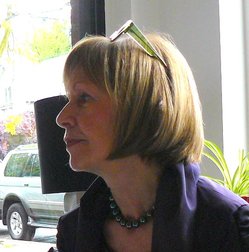 Mireille Guiliano, author of French Women Don't Get Fat: The Secret of Eating for Pleasure (which we wrote about when it came out five years ago), has a new cookbook, and she's promoting it in Seattle today and tomorrow to spread the good word on healthy eating. (A French person doesn't say, "I'm full." She says, "I am no longer hungry." End of story.)
The new book, The French Women Don't Get Fat Cookbook, has 150 simple recipes in addition to stories from Mme. Guiliano's childhood in France, her adult life in New York (where she ran the import arm of Veuve Clicquot champagne), Paris, and Provence, and her extensive travels for business and pleasure.
Among the words of wisdom on Guiliano's website is Colette's maxim: "Un homme qui n'aime pas le fromage ne peut être bien au lit," or "A man who does not like cheese cannot be good in bed."
Guiliano started her day on morning TV, followed by a meetup with food bloggers, a noontime demo and book signing at U Village, a mid-afternoon reading at McCord AFB (a first for the Air Force, one assumes), and an evening reading at Third Place Books. Tomorrow she joins up with the Alliance Française for a four-course luncheon prepared by Daisley Gordon of Campagne ($70 for members, $80 for non-members).
The biggest problem, Guiliano says, is America's need for speed. "When you eat fast, you eat badly, and when you eat badly, you get fat." Food, however, is not the enemy; yoyo diets don't work.
Four quotes:
What did you eat last night? "Oysters at Elliott's."
Her favorite pastime? "Breakfast, lunch and dinner."

If you could eat whatever you wanted, what would you eat? "But I do eat whatever I want."

Her best advice? "Go to the kitchen and cook."