Wine, nectar of the gods, is what the elites drink, an expensive indulgence for snobs. Martin Barrett has heard it all. He's a wine guy, former owner of Cana's Feast in Oregon, now living in Seattle and running inner-city social welfare programs.
Over a glass of wine one evening with his longtime friend Monte Regier--a human resources manager who'd just returned from a stint on a hospital ship in Liberia--the talk turned to the contrast between Africa's grinding poverty and America's pockets of poverty in a land of abundance. Barrett realized that for a dollar a day he could feed a hungry kid. Not in some distant land but here at home, where he knew well that there are too many hungry kids."This glass of wine," he said, "could feed a kid."
And so was born the concept of Sozo (a Greek word that suggests rescue), a unique project that shares the revenue from wine sales with local food banks.
Barrett understood that Sozo had to start with excellent wines, "but the last thing the industry needs at this point is another new winery." Yet, there's a lot of good juice out there, languishing, begging for a good home. Tasting tank samples around Woodinville that seemed to have some potential, Barrett and Regier discovered the talents of Cheryl Barber Jones, the former wine maker for Chateau Ste. Michelle, now a freelance consultant. She began working her "magic," blending stray lots so that the sum was greater than its parts.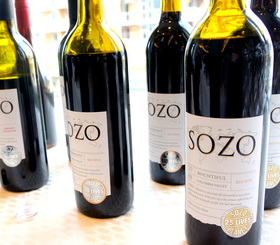 In its first year, Sozo released six or seven wines, whites like riesling and pinot gris; reds like pinot noir, tempranillo, a Rhone blend, a Bordeaux blend, in addition to special bottlings for the Rotary Club. So far, so good. In fact, the Rhone blend was named best of class at the Los Angeles International Wine & Spirits Competition last year and the Bordeaux blend won a gold medal; priced at $120, it sold out.
"Cheryl's crafted some amazing wines," Barrett says. So the "cause" is a bonus. There's a number in the lower right hand corner of the wine label, the number of food bank meals that the sale of the bottle will generate. Not a guilt-inducing "instead of" admonition thatyou could have made a donation instead of buying the bottle, but a satisfying "in addition to." Five meals for the riesling, 25 for the Bordeaux.
The biggest supporters have been local restaurants, over 70 at last count, from swanky spots like Canlis to neighborhood eateries like Magnolia's Mondello. There's no mention on the list that there's anything special about the wines, but each restaurant names its own charity (Canlis picked the None Will Perish foundation; Mondello named the Ballard Food Bank). Sozo writes the check, and the restaurant mails it to the beneficiary.
So far, the Sozo project has generated 70,000 meals for hungry kids. "People who work in the private sector think we're crazy to be giving away our profits. Yet the idealists in the non-profit world probably didn't have the discipline and analytical skills to make this happen." Barrett told me this week. "With Sozo, we seem to have created the best of both worlds."
One last note. The Hotel 1000 is holding a dinner later this month, June 21st, featuring Sozo wines (its own custom label, "Balance," and others) to honor three charitable organizations. The hotel will deliver checks for $2,500 to each one, the proceeds from its sale of Sozo wines.