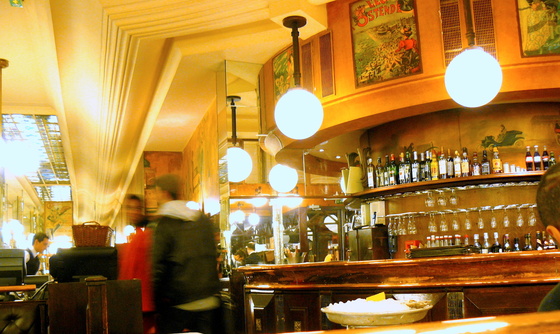 PARIS--A Sunday night in November, 9 PM, haven't eaten since breakfast and I'm starving. Five minutes walk takes me to the Brasserie Terminus Nord, opposite the train station. Free wi-fi. Will now live-blog dinner.
Carafe of white wine. Six oysters (served on crushed ice, accompanied by lemon halves, slices of brown bread and a foil-wrapped tablespoon of salted butter). Fine oysters. Feel like Hemingway. Fingerbowl with slice of lemon to rinse digits. Wouldn't want to contaminate iPad keyboard.
Waiter removes fingerbowl, brings pot of mustard. Sauerkraut and pork shank appear. Choucroûte garnie, classic Alsatian dish. Pork shank copious, called a jarret in French.
Who is here? Travelers, of course. An Italian family (balding guy with beard, could have been from New York, wife speaks French, kid waits patiently for his gelato). A foursome speaking French, just finishing dinner (with crèpes Suzette, no less).
A tall, white-haired gent in a red greatcoat, Obi-Wan with a roll-aboard, says goodbye to the headwaiter. Italian paterfamilias has an iPad, too, which he puts away as dessert arrives. Beer with profiteroles?
A few hardy souls are still sipping aperitifs on the sidewalk terrace, or maybe they're switching to hot chocolate. The weather, sunny and warm across Europe just a week ago, has turned frightening. Rains of biblical proportion. Air traffic grounded by thunderbolts, rail traffic flooded, highways swamped.
Generous serving of Camembert for dessert absorbs the last glass of wine.
Here and only here: the Parisian brasserie.
For all the "live blogging" on the iPad references, this gets buried, swamped by subsequent events. Just recovered from the slush pile, polished up & posted for a cool June day in Seattle.