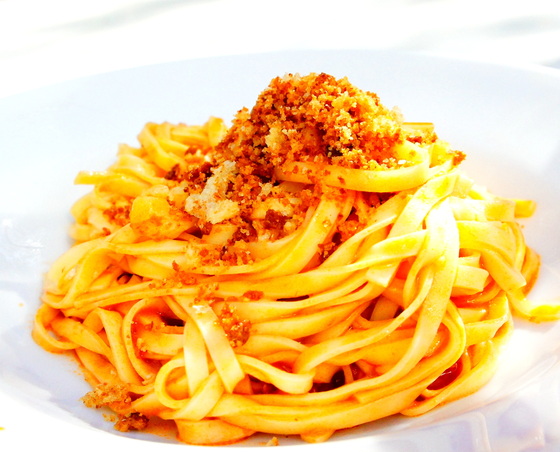 Maybe Mike Easton thought the weather Thursday would be more typical of Seattle in the fall and so planned a dish appropriate to the season. As he described it on his blog, IlCorvoPasta.com,
"The aroma of garlic, anchovies, and chili flake, slowly simmering in olive oil, envelopes you like a warm blanket on a chilly October morning."
Instead, sunny skies! (Again!) Between the unexpectedly fine weather and the last wave of tourists finding their way down the Pike St. Hillclimb, there's a line along the counter at the Procopio gelateria where Il Corvo sets up shop every day and serves lunch only, Tuesday through Friday, to his guests. There's room for maybe three dozen to sit at a time, and they often come based on what he tweets or writes on his blog. Three pasta choices, optional salumi plate, optional bread, optional wine, optional gelato for dessert, no credit or debit cards.
Thursday's choices included that superb taglialini alla Siciliana, which Easton describes as "a culinary hug." Not some huge, Olive Garden or Bucca di Beppo-sized monstrosity, but a perfect lunch size plate ($9, tax included) of pasta flavored with tomato paste, chili flakes and anchovies, topped with the peasants' substitute for grated cheese (because the aristocrats kept the cheese for themselves: toasted breadcrumbs. And might I add a modest hurrah for the depth of flavor contributed by anchovies? Beats bacon any day.
And, gulp, "bacon" is kind of where Easton used to work. At Lecosho, that is. Now he's on his own, nothing but his own whims and whatever he finds at the Market and whatever he can crank out by hand with his trusty pasta-making apparatus. Four days a week, 11 to 3, cash only, an unblemished rating on UrbanSpoon, "Best Lunch" accolade from Seattle Weekly.
It's fashionable to be--or pretend to be--an "Italian" cook. Seattle is full of Guido-wannabes. Easton is the real thing.
Il Corvo, 1501 Western Avenue, Seattle, 206-387-3556