What a handsome building Kurt Dammeier found, at Broadway and E. 20th, in New York's famous Flatiron District, when he expanded his Beecher's Handmade Cheese operation from Seattle to the Big Apple a bit over a year ago. It's on the same street as Gramercy Tavern, three blocks from Eataly, two blocks from ABC Kitchen.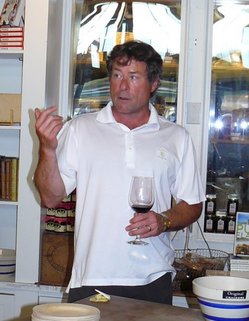 "We didn't realize that the Flatiron District was going to be such a big part of the foodification of Manhattan," Dammeier tells Cornichon, "but we're loving it."
The New York Beecher's has 8,500 square feet of space, more than double the footprint of the store at Seattle's Pike Place Market. There's room for Beecher's signature,cheese-making "factory," along with a cheese counter and a cafe. There's additional seating on the mezzanine, and a cheese cellar and cocktail bar in the basement. "We get a lot of business from foodie tourists who've heard about Beecher's because of the national awards we've won," Dammeier says, "and we're a touchstone for Seattle visitors."
Beecher's opened to good reviews (in June, 2011) and "got even better," as Dammeier puts it. "But I didn't realize how really slow things are in Manhattan in summer, especially on weekends. I'd thought of New York as this beehive with seven million people, but in fact it's a whole bunch of neighborhoods, even more insular than Seattle."
Beecher's isn't the only Seattle enterprise to launch in New York. Mike McConnell's Via Tribunali and Caffe Vita also opened on the Lower East Side at about the same time, but, so far, with less impact. And, as reported by Cornichon just yesterday, micro-roaster Fonté Coffee is looking for a space.
Beecher's, 900 Broadway, New York City, 212-466-3340
Photo courtesy Beecher's Cheese