Anytime there's an online article with the words "Best," "Worst" or "Top Ten," in the headline, it's a guarantee of page views. So, sure, we looked. This time, it was a story that Open Table, an online restaurant reservation website, had compiled its annual "100 Top Restaurants," drawing on data from users around the country. According to Huffington Post, three of them are in Seattle: Canlis, Altura, and Rover's.
(Our photo: Altura's owner & chef Nathan Lockwood assisted by sous-chef Tiffany Boudreaux, May 2012)
The list--which came out before Thierry Rautureau's announcement last week that he is closing Rover's next spring--was based on reviews from customers who have used the Open Table site for their reservations, but makes no attempt to include restaurants that don't subscribe to Open Table. Other sites, like Urbanspoon, have similar reservation programs that cost a participating establishment far less, and Urbanspoon put out its own list not long ago about the nation's top restaurants for kids. That one was bizarre: Toulouse Petit? C'mon. Go play in traffic while Mommy's drinking her Bloody Mary.
What's the fascination of these "Best" lists? Isn't there a danger of manipulation? As Mónica Guzmán pointed out in a Seattle Times piece Friday, "Fake raves breed mistrust."
Well, that's one way of looking at it. The horror of a fake rave! In a world of TV advertising, every candy bar is delicious, "picks you up" without spoiling your appetite or making you fat. Use a little or use a lot, MiO Water Enhancer abolishes "the boredom of passive beverage drinking." Ask your doctor if you are healthy enough for beverage activity, but be sure to tell your doctor if your boredom lasts longer than six hours. Wait, what?
My sense is that 21st Century Americans have a pretty good set of antennae to detect even microscopic levels of bullshit. If an online review says, "We got upgraded to the Presidential Suite, where a magnum of Veuve Clicquot was waiting," it's not likely to be true. An honest good review is like gold, to be cherished, polished and nurtured. And the better your online reputation, the more your jealous competitors (and just plain mean-spirited people, generally) will be out for your hide.
Guzmán: "It's hard to say how widespread review fraud is, but it's easy to understand why it exists. Good reviews drive business. Lots of it. A 2011 working paper by Harvard Business School's Michael Luca suggested that just one more star in the Yelp rating of independent restaurants leads to a 5 to 9 percent increase in revenue."
Fine. The original study even filtered out obviously phony reviews. But what about bad revews?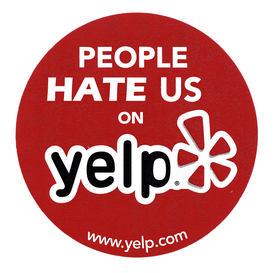 The fact is that Yelp is now offering to certify that a site's positive reviews aren't made up. That's a good idea, if you're trying to clean up your act. But it's the height of hypocrisy, because Yelp is the hotbed of ill-informed, illogical and inaccurate reviews, dog poop on the sidwalk.
Yelp has been notoriously slow to root out "planted" unfavorable reviews. Yelp employes a staff of "consultants" who promise to make bad reviews "go away" in return for hefty fees. Business owners paying for positive reviews undermine this in-house protection racket. Yelp won't get involved in negative reviews, however, even if factually inaccurate; it's got to be one of the worst, most mean-spirited sites on the Internet.
I worked for a time as media consultant to a group of family-owned restaurants. The Yelp guy suggested we advertise. I explained my concern: if a waitress writes "The restaurant is great," Yelp will likely flag the review as coming from a shill. But if a jealous competitor writes, "I ordered the meatloaf and it made me sick," the review runs. I challenged the Yelp guy: "I can prove to you that the person who wrote the comment never ate in the restaurant, and, besides, we've never served meatloaf." Ah, said the Yelp guy, "We don't get involved in disputes over facts."
Is there a solution? Sort of, and it requires work.
If you don't want to eat the miserable food that tourists are fed in every big city, you've got to have a battle plan. You can scour foodie magazines, you can spend hours online, or you can find a local friend. Probably easier said than done if it's a foreign country, which is why the first stop for many is TripAdvisor or one of its imitators (like Zagat) which also feature reader content.
It's not foolproof, but as a rule, the first dozen or so restaurants on TripAdvisor will be tourist joints. Don't believe me, look up your own home town. Seattle's top-rated "restaurants" are Beecher's (a retail cheese shop), Pike Place Chowder, Paseo Caribbean, Poppy, Toulouse Petit, Le Panier, Crumpet Shop, Salumi, Skillet Diner, Space Needle. In other words, places close to the heart of Seattle's top tourist attractions (the Market, Pioneer Square, Seattle Center, Kerry Park, Capitol Hill).
And even when you spot a TripAdvisor review that seems to point you in the right direction, you might still find yourself seated at a lousy table, ignored by the waitstaff, or handed a "tourist" menu. But at least you can read what travelers from other parts of the world say, self-identified as regular travelers or occaisonal tourists.
My personal sense is this: read TripAdvisor critically but do not even look at Yelp. I admit to sin; I have looked at Yelp, and the experience has made me less of a human being. Yelp is a body of work whose insidious evil can no longer be ignored as a braying voice or two in the marketplace of ideas; its reviews have the malevolence of body-piercing hollow-point bullets tearing into the fabric of a small business, sprayed indiscriminately from the keyboards of selfish, petulant narcissists.