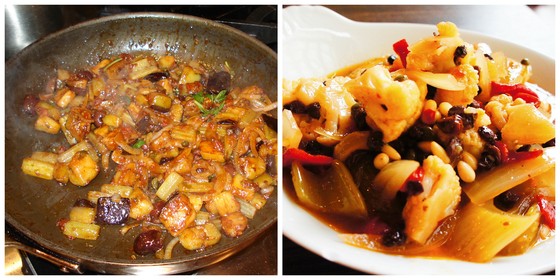 First off, from the many years I worked alongside the owners of Italian restaurants in Seattle, I've got hundreds of pictures of pasta (from spaghetti and linguini, to tagliatelle and lasagna) but almost none of caponata. Plenty of pizzas, plenty of caprese salads; they're very photogenic. But caponata, like steamed mussels, present a real problem: the tastes are sublime but the colors are murky and lack contrast. Best I could do was the image on the left, taken during a cooking class by Mamma Enza Sorrentino in Magnolia.
So here's a question for Mike Easton, Seattle's best producer of authentic, artisanal pasta: why is there no eggplant in your caponata?
I'm no expert, but every caponata I've ever had was based on eggplant. Eggplant and celery, plus (and here it gets into the realm of the discretionary) olives, capers, onions, zucchini, olive oil, Balsamic vinegar, tomatoes, sugar, raisins, pine nuts, and chocolate shavings. Even hard-boiled eggs (for the winter version), along with assorted herbs. Fabrizia Lanza's authoritative Coming Home to Sicily acknowledges a variation with artichokes; Georgio Locatelli's Made in Sicily postulates additions of carrots, almonds, pomegranate seeds. Mario Batali's recipe thows in cinnamon. Food Network tells you to use red and green peppers.
But all of them, all of them, use eggplant. So why doesn't the version Easton serves at his admirable spot, newly relocated to Pioneer Square, Il Corvo?
To be fair, Il Corvo's "caponata" had all the right sweet-sour flavors, but not the soft, palate-filling texture of eggplant sautéed in olive oil. Instead, there was al dente cauliflower. It tasted fine, but please, Mike, call it a delicious appetizer of légumes à la grècque, not, gulp, caponata.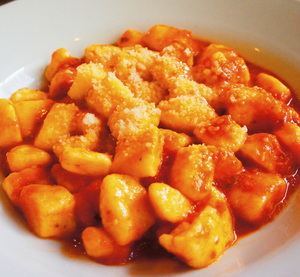 Everybody's got a stereotype, and Italians are no different: wildly passionate one moment, indifferent the next. Political corruption? cynical indifference. Matters of the heart? Passionate but fickle. Matters of the table? Ah, passionate to the core.
My Italian restaurant friends get particularly incensed when American chefs misappropriate Italian culinary language and apply a name like "carpaccio" to a plate of sliced raw meat, or "pesto" to any old green sauce. Or, truth be told, "caponata" to an appetizer of sweet & sour vegetables.
The distinction may seem trivial or irrelevant, but not for a few True Believers, purists, conservators, Keepers of the Flame. In this particular case, Italian cooks from Italy. With theological intensity, they argue that if you call something caponata, it has to be caponata. Not some metaphorical version of caponata, but the real thing, what Italians of all regions understand to be the genuine, traditional Sicilian recipe.
All too often, Seattle dumbs it down. We compromise, we fudge, we dilute. In the end, we pretend it doesn't matter, we're left with a shiny surface. Looks like chicken, tastes like dogfood.
Fortunately, the rest of the menu at Il Corvo is terrific. Picture above is of the ethereal gnocchi, made from Yukon Gold potatoes. A taste of the sublime for $9. Something to get excited about.