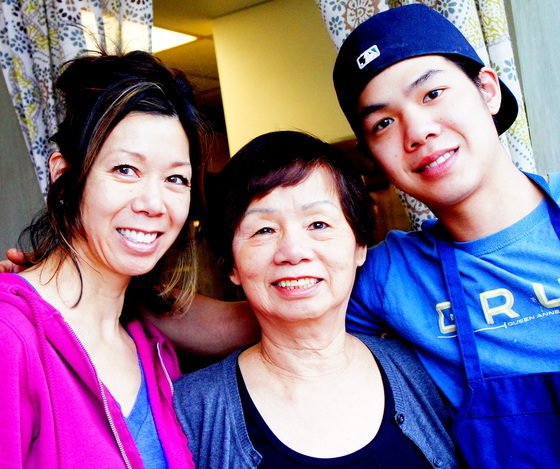 L to R: Sharon Fillingim, Martha Woo, Jordan Luke
Sharon Fillingim, longtime presence in Seattle's restaurant and bakery scene (Cool Hand Luke, Jimmy's Table, Le Rêve), opened her latest spot, Grub, on Queen Anne last July. The original idea was salads and sandwiches at lunch, and a dinner menu of safe, chicken-pork chop-ribeye choices. The reviews came slowly: solid but none of the newcomer, "celebrity-chef" buzz that fills seats.
After nearly three decades in the business, Fillingim made no pretense of being a flash-in-the-sauté-pan. Still, there were welcome surprises. Seattle.Eater.com put Grub on its Heatmap of the top 38 places to eat for a couple of months. The Seattle Times put Grub's pineapple layer cake on its "best bites of 2012" list. Seattle Weekly put Grub's kale salad on its own list of top dishes of the year.
It took six months, but Grub was off and running.
Fillingim's original chef, Joel Jester, is now behind the bar; there's a veteran, Julio Sanchez, in the kitchen, assisted by a 24-year-old youngster named Jordan Luke who, says Fillingim, "looks just like his dad." (That would be Curtis Luke, Fillingim's husband back in the days of Madrona's Cool Hand Luke.) Helping out in the dining room is her mom, Martha, a veteran of restaurant kitchens while her daughter, Sharon, was growing up. "Thanks for always believing in me, mom!" says Sharon.
Grub, 7 Boston St., Seattle, 206-216-3628