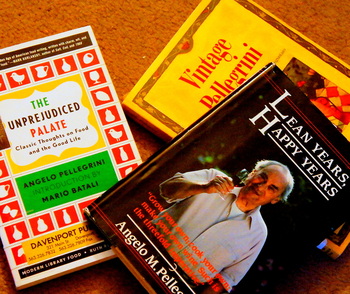 Angelo Pellegrini, Italian-born author of The Unprejudiced Palate, Lean Years, Happy Years, and The Food-Lover's Garden, was devoted to the pleasures of a convivial table. His books--his life, in fact--inspired a generation of foodies in his adopted home of Seattle and throughout the country as well. He died in 1991 at the age of 88.
Though many of his books (except for Unprejudiced Palate) are now out of print, we remember Pellegrini today as the sage of Seattle's culinary revolution in the 1960s, the subject of an admiring profile in the NYTimes in 1989. He grew up in Tuscany, where he would gather up roadside cow pies and sell them for fuel to earn a few coins. That's hardly the boyhood one expects for a revered professor of literature at the University of Washington, an astonishing story of intellectual achievement in the face of incredible odds.
Remember, in the first half of the 20th century southern Europe was racked by unimaginable poverty. Millions fled toward land they hoped could feed them; those left behind boiled and ate whatever they could find. We cannot imagine today the level of deprivation they faced, so we celebrate, instead, the bounty they helped create. Pellegrini's own words describe his efforts to become a regular American kid (he misspells sizzers and finishes second in a spelling bee); he plants a garden; his prejudices evolve: he's fond of the cornmeal staple of northern Italy, polenta, but disdains the salted sardines of the south. "Grow your own, cook your own, make your own wine," he implores his readers.
Mario Batali writes, "The Unprejudiced Palate is about nourishing the soul with the food we eat." Pellegrini's spiritual heir, Jon Rowley, has organized a Pellegrini Dining Society whose monthly dinners keep that spirit alive. They take place at Carla Leonardi's admirable Cafe Lago in Montlake; the next one is Monday, March 18th, and there are a few seats left. Aperitivi, six courses, plenty of vino.
"Convivial homage to Angelo Pellegrini, with simple, but well prepared food, wine, conversation, stories, and maybe an accordian," says Rowley. The table seats 18. Be there.
Reservations through Brown Paper Tickets.
Cafe Lago, 2305 24th Ave E, Seattle, 206-329-8005
Dinner guests at the Pellegrini Dining Society event in February at Café Lago.