We're taking a look at how Seattle's best-known waterfront-view dinner houses are coping with their status as "icons." Yesterday, Salty's. Tomorrow, Ray's. Today, Palisade.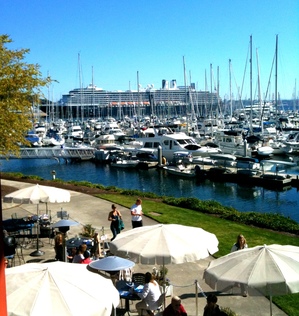 The restaurant occupies a lodge-like building on a low bluff at the southern tip of Magnolia, overlooking the Elliott Bay Marina and Smith Cove. The twinkling lights of downtown Seattle--sometimes blocked by cruise ships--are three miles to the southwest. Palisade is part of a group called Restaurants Unlimited (it's the parent of Palomino and Cutters, among many others), which has nurtured a goodly share of local talent (John Howie, for example).
Parent company RUI owns 26 restaurant brands (for a total of 46 stores) in 11 states. This sounds like a broad platform, a diversity that has its dangers: someone will want to tinker. For example, in 2007, Seattle-based RUI paid $44 million for Pacific Coast Restaurants, a group of 27 spots in the three coastal states, among them Portland City Grill, Henry's 12th Street Tavern, and the Newport Bay Restaurant chain. By last year, the Bellevue outpost of the Newport chain had been re-branded as Portland Seafood Company.
(Restaurants Unlimited is owned by a private equity firm based in Florida, Sun Capital Partners, known because it was at a fund-raiser in the home of its co-ceo, Mark J. Leder, that Mitt Romney made his infamous "47 percent" remarks.)
Generalizing (always dangerous), but the guest at Palisade isn't the same guest who sits down at Mistral Kitchen, Barolo. Terra Plata or The Coterie Room. Expectations are different, for starters. Younger local diners go out for different reasons.
Parties looking for a "celebration" restaurant are Palisade's target customers. As the sun sets, Mount Rainier comes into greater relief. As Palisade celebrates its 20th birthday, there are a few new menu items and what GM Doug Zellers (brought in from the Washington Athletic Club a couple of years ago) describes as cleaner, fresher tastes. Ryan O'Brien, a star at Portland City Grill, was tapped to run the revitalized kitchen on the Magnolia waterfront and given the mandate: "elegance on every plate." Says Zellers, "People had kind of forgotten about Palisade." At one point, the vaunted Sunday brunch even lost its signature seafood buffet. (It was quickly reinstated.) "Give us another 20 years," says Zellers.
But Palisade, for all of its uniqueness and prestige, is not a stand-alone store. If it were part of a chain, it would be the flagship restaurant, but it's become sort of a flagship nonetheless for the entire, $150 million company. Which is why it's with some reluctance that one must call attention to the flaws.
There may have been a refreshing coat of paint and a new layer of upholstery; the signature Ocean Tower (oysters, lobster, crab legs, prawns, etc.) now arrives tableside on a customized metallic stand shrouded in a cloud of dry ice, as dramatic an entrance as one can imagine. But the before and after seem half-hearted. The "signature cocktail" is an anemic concoction named Guava-Rita, underpowered where the vodka is concerned and overwhelmed by its rim of black lava salt. On the meat side of the menu, the filet mignon Oscar includes a surprise: a mushroom cap that adds nothing to the plate. Comes time for the dessert, it's a chocolate soufflé that misfired somewhere between concept and execution. Served in a ramekin too small for its ambitions, it resembles something a four-year-old might extract from her Easy-Bake Oven.
Palisade, 2601 W. Marina Pl., Seattle, 206-285-1000


Have something to say? Comments on Cornichon have been re-enabled. You'll still have to register, but we welcome your feedback.