We've been writing about the challenges facing Seattle best-known restaurants with a waterfront view. Previous posts have featured Salty's and Palisade. Today, Ray's Boathouse.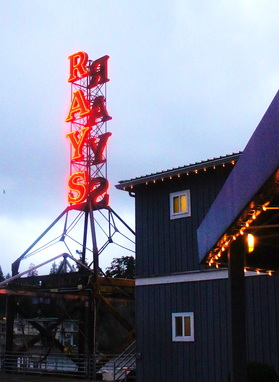 Ray's isn't like the other two. It's further away from town, for starters (six miles from downtown), at the west end of the Ship Canal. Ray's literally began life as Ray Lichtenberger's boathouse 60 years ago, with a glowing neon beacon (RAY'S) to signal sailors approaching the Shilshole Bay marina or the the waterway leading to the locks and Lake Union. The immutable attraction here is the stunning sunset view across the water to the Olympics, but it's more than location that beings people here today. Upstairs, in the informal café, there's reliable fish & chips plus a bar with craft beer. Downstairsin the Boathouse proper, two iconic dishes: Alaska King Salmon and Sake Kasu Sablefish, both created by Ray's first chef, Wayne Ludvigsen, and carried forward by the incumbent, Wayne Johnson.
Ordinary seafood is not enough, though. "Today's diner is more worldly," says co-owner Russ Wohlers. So techniques from the Nathan Myhrvold school of modernist cuisine are being applied to traditional recipes. Ray's "wasn't broken," the owners point out, but needed a facelift, as much to cater with post-2008 economics as anything, so smaller plates, lower price-points, more exotic flavors. And cocktails that appeal to the target audience (decision-makers when it's time to select a destination): women in their late 30s.
"Our research showed that Seattle locals hadn't been to Ray's in four to seven years," says marketing consultant Ken Grant, brought in to spearhead the re-branding. "There are 5,000 restaurants in King County, so we can't be a museum. We're in the entertainment business; we have to tell a story." With the right story, Ray's hopes to go from a $9 million restaurant to $12, even $14 million.
How do you update your decor and your menu and appeal to a younger clientele? The solution was, in part, to remodel the space, to capitalize on its relatively low ceilings and length by turning it into the interior of a Chris Craft yacht: drop the ceiling even further, accentuate the contours with gold lighting, take a cue from the water to add blue tones, add a 30-foot bar in the middle of the room to break up the space and make it feel more intimate. "We'll still have around 50-percent tourists," Wohlers acknowledges, but more locals willing to spend $50 per person without feeling overcharged. So how do you modernize without scaring away your regulars? At Ray's, it looks like they're going to try rocking the boat a little bit. Not too much, just a little bit., but enough "to be on the leading edge again."
Ray's Boathouse, 6049 Seaview Ave. NW, Seattle, 206-789-3770
Comments have been re-enabled on Cornichon, so let us know what you think of this post! We look forward to hearing from you.