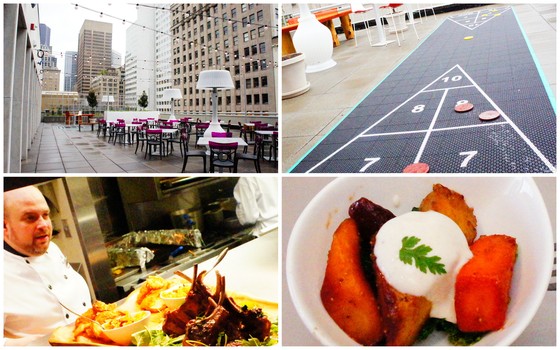 Rain, rain, go away. Please, give us a couple of springtime afternoons or summer evenings where we can play shuffleboard and ping pong in Seattle's concrete jungle, surrounded by skyscrapers, and pretend we're on a cruise ship.
May the bartenders at the new Frolik (which opens today in the space formerly known as the Fifth Avenue Red Lion's Terrace Garden) stop fussing over their time-consuming, designer cocktails (less convolution, more booze!), may the banquet chef in the kitchen adjust the seasonings on that crab mac-n-cheese (milder!), those tender lamb chops (spicier!), those roasted root veggies with crème fraîche (bolder!). Smoked salmon deviled eggs? If you say so.
We know from recent experience that Destination Hotels, the management company for the Fifth Avenue Red Lion, will get this thing fine-tuned eventually; Dylan Giordan's admirable menu at their other local property, The Woodmark in Kirkland, is proof that it can be done. Just hope the tweaks (in the kitchen and the bar) at Frolik can take effect by the time the sun returns; it really is a magic space that could easily become a prime rendez-vous for the heart of downtown.
Frolik Kitchen+Cocktails, 1415 5th Avenue, Seattle, 206-971-1800