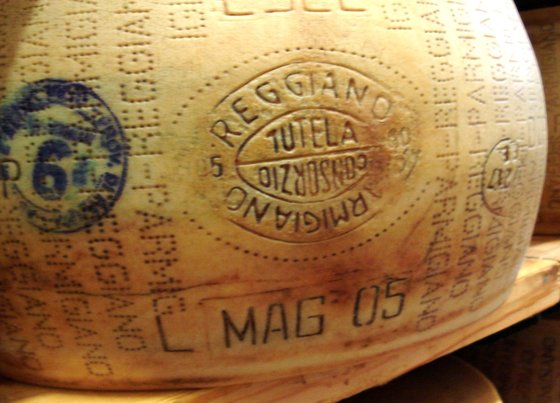 BOLOGNA--In the grassy plain of the Po, between here and Piacenza, a quarter million grass-fed cows on 5,000 dairy farms contribute their milk to 500 artisanal producers of a very specific cheese, Italy's finest: Parmesan for short, Parmigiano-Reggiano to give it its full name.
In batches of 1,100 liters, the combined morning and afternoon milkings (the amount produced by some 40 bovines) is transformed: cream skimmed, casein starter and rennet added, curds cut into rice-sized granules, boiled for 10 minutes in a copper steam kettle under the watchful eye of a master craftsman, then drained, divided in two, wrapped in cheesecloth, formed in traditional, 100-lb. molds, salted for three weeks, aged for a year, inspected and graded, then aged for another year or two. At the end of the process, the cheese emerges as the real deal, genuine, DOP Parmigiano-Reggiano.
The best, stravecchio sells at the dairy for 13 euros a kilo, about $9 per pound. In many restaurants in nearby Parma, the menu gives you the cheese's full pedigree: name of dairy, month of production. The real thing, when you can find it in the States, is around $15. And is it ever worth it. Dense, crumbly, it isn't sliced but stabbed into little pieces.
Nutty, fruity, sweet and despite the salt that helped create it, with a remarkable complexity and depth of flavor, it's a treat on its own (with a dash of balsamic vinegar, perhaps) or grated over pasta (nothing like the packaged soap flakes sold as "Parmesan" by Kraft). Here and only here: the product of its unique place, always hand-made.