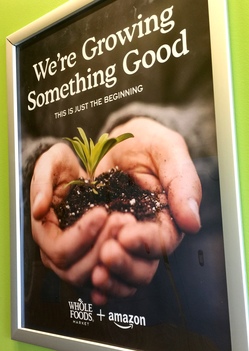 You'd think that the new parents would want to document their baby's first steps, but no.
I'd been inside the Whole Foods Market in Seattle's Interbay neighborhood for about two minutes when a friendly young woman with orange hair and horn-rim glasses introduced herself as the "team leader" and reminded me that photography was forbidden inside Whole Foods stores. So be it.
Amazon's $13.7 billion purchase of Whole Foods took effect today, and the world did not end. In fact, It's just getting started. On its website, Whole Foods says,

The two companies will together pursue the vision of making Whole Foods Market's high-quality, natural and organic food affordable for everyone. As a down payment on that vision, Whole Foods Market is immediately offering lower prices on a selection of best-selling grocery staples across its stores, with more to come.

What else can we expect? For starters, some sort of recognition at the checkout register for Amazon Prime members. The ability to purchase groceries online, especially its 365 Everyday Value line of staples and private label canned goods. Storage and pickup lockers for Amazon purchases, an easy way to drive traffic into the stores. Even more fresh food for purchase (and consumption) inside the stores.
Nervous investors dumped shares of Kroger, Wal-Mart, Target and Albertson's on Friday; the value of grocery stocks dropped $12 billion in one day. One Kroger exec was quoted in the Wall Street Journal as saying "If we have to sell a can of corn for 40 cents, we'll figure out a way to see a can of corn for 40 cents." And in that one quote, he demonstrates that legacy grocers, stuck with real estate and labor overhead, will never figure out how to make money selling canned corn. Legacy grocers compete with each other, but they still believe it's about price. If that were the case, discounter Grocery Outlet would be the nation's leading chain.
Wal-Mart, for its part, is spending heavily on remodeling its 4,600 stores and equipping some 1,100 of them as pickup points for online purchases. No stranger to battles with Amazon, Wal-Mart bought delivery-specialist Jet.com for $3.3 billion earlier this year, and is incorporating its online expertise into its e-commerce efforts.
In the old days, some of us recall, grocery stores advertised their prices in the newspaper, or in "shoppers" or other circulars. QFC might offer a great price on pork chops one week; Safeway had ground beef and green peppers. You made a mental menu before setting out on your weekly rounds.
But it's a tough business. The average, 50,000-square-foot supermarket needs to stock some 35,000 items to stay competitive, while Whole Foods, with its focus on organic foods, stocks half as many items.
So Amazon can wait them out. Groceries are not the core of its business. What it wants is the store traffic, the opportunity to show off Whole Foods's commitment to local and organic food, and the synergy the stores will have with e-commerce.
As to the bananas, well, what can we say? They used to be 79 cents, now they're 49 cents. They're still 19 cents apiece at Trader Joe, and not many people I know are going to drive across town to save 30 cents on bananas. Avocados? Eggs? Grass-fed gound beef? Balsamic vinegar? Wild-caught salmon? Local cheese? A salad bar with garden-fresh produce? House-made gelato? I could get used to this.
Amazon is betting that the toddler lurching across the parking lot toward the double doors that proclaim "Welcome to Whole Foods" may grow up to be a long-distance runner.