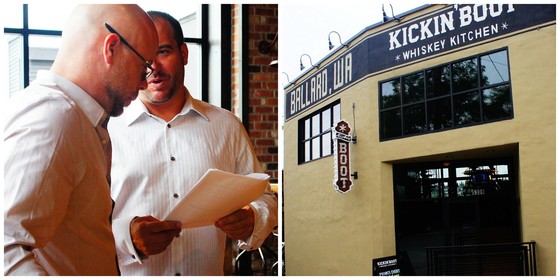 The owners of Kickin' Boot, the whiskey-&-BBQ themed restaurant in Ballard, gave up the ghost last week, five years after they opened.
We've long admired the founding partners, a duo named Nathan Opper and Zak Melang. Opper was a home builder in Michigan before landing in Seattle; Melang, a bass player, moved here from North Carolina to play music.
Eager to launch a restaurant venture together, they found a grand old building--an abandoned lumber mill on the fringe of Historic Ballard overlooking Shilshole Avenue--but the buildout, back then (early oughts), seemed daunting. Instead they leased a little bar at the intersection of Market Street and Ballard Avenue called Matador. There are now four Matadors in Seattle, two in Portland and one more in Boise.
Having learned how to work with classic spaces (Melang does the design and fabricates all the tables himself) and how to run restaurants, they returned to their first love, the 1927 Henry Whyte lumber mill. This time they knew what to do: preserve the cedar beams by building an entire new roof, for example. They named it Kickin Boot, and the concept Whiskey Kitchen: the food, drink and flavors of America's broad southland. Barbecue, brisket, pulled pork, rib-eye steaks, gumbo, grits, catfish. Chicken with buttermkilk biscuits. Sweet potato pie. A bar heavy on bourbon and rye.
"It's not that Ballard is lacking for top-level dining, what with Bastille, Walrus & Carpenter, Staple & Fancy," Melang told me when Kickin Boot launched in 2012. "We want to add to that."
A second Whiskey Kitchen (Southland) opened in Portland, to be followed by a third concept, involving seafood, that came to life as Ballard Annex Oyster House.
What troubles me is the manner that Opper and Melang announced that they're closing the original Kickin Boot. "Unfortunately, due to many obstacles, the time has come to make the difficult decision. This closure is strictly due to the financial hardship we have endured."

Puget Sound Business Journal says the reason is Seattle's $15 per hour minimum wage. I don't buy it. Opper and Melang are too savvy for that. Their Matador restaurants remain open, Ballard Annex remains open, Portland remains open. Gotta be something else. Lease expired? Probably. Wrong or difficult location? No worse than everything else along Ballard Avenue. Wrong concept? More likely. Barbecue just ain't classy enough for Ballard.
All you hardworking barkeeps and cooks, servers and bussers who are now looking for work: you're being conned.