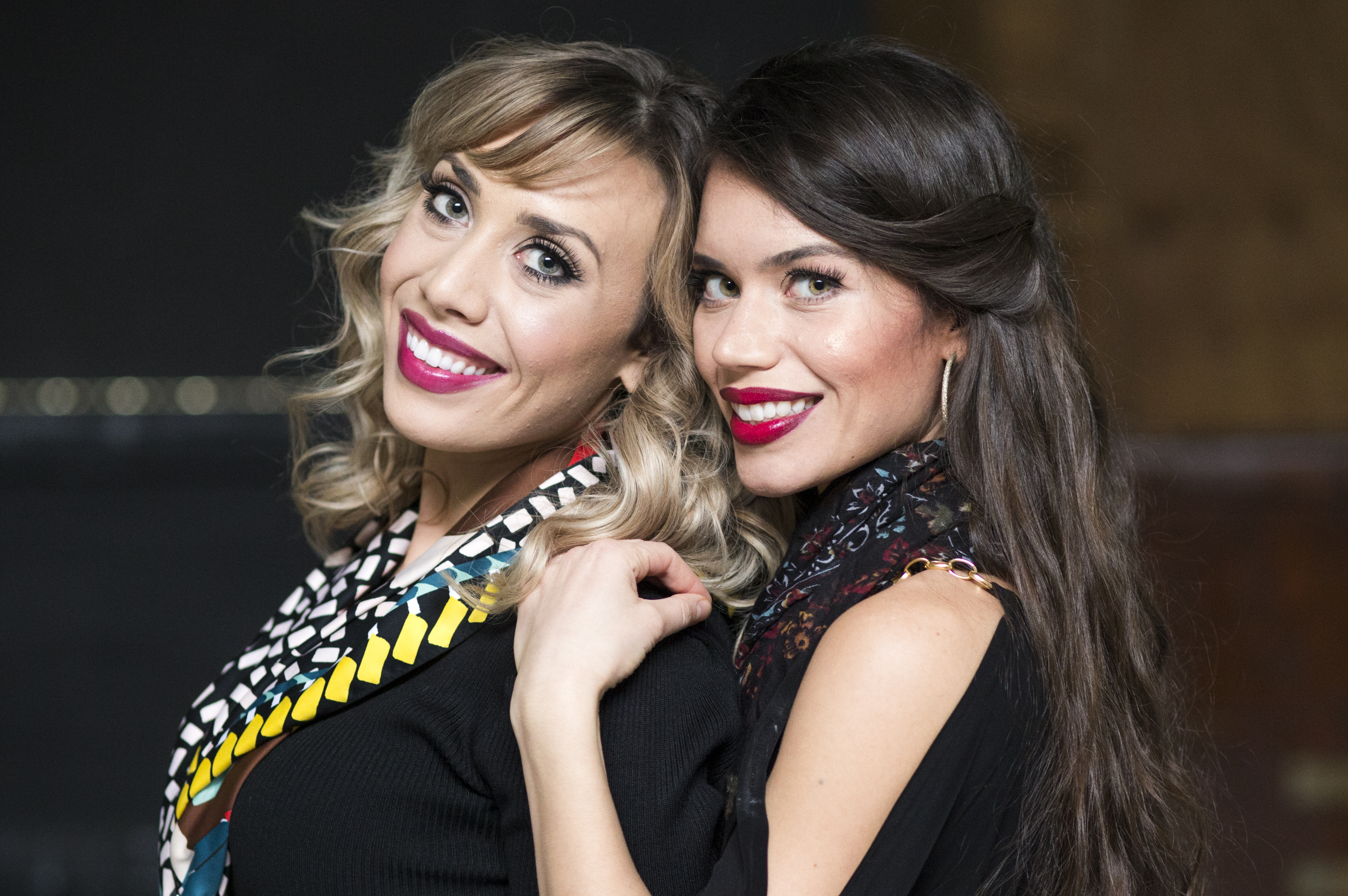 Sisters Marina (left) and Ginger Costa-Jackson as on-stage sisters Fiordiligi and Dorabella. Seattle Opera photo © Philip Newton
The last time we saw this production of Mozart's musically delightful, morally cynical opera in Seattle, Barack Obama had not yet been elected, so were living under W with the politics of hope and "Yes, We Can" rather than whatever outlandish country (in this case, Albania) the Orange Baboon decides to put on this week's shit list.
The premise: two dudes (Ferrando and Guglielmo, dressed like midtown bankers) are engaged to sisters (Fiordiligi and Dorabella). The men foolishly agree to a challenge by their friend, Don Alfonso: they will test the women's fidelity by wearing disguises and start courting each other's fiancées.
In the original libretto, the newcomers are "Albanians." In this production, they become punk-rock hipsters from Portland. The sisters think there's something familiar about them. "Haven't we seen you somewhere? Georgetown? Ballard Market? Uncle Ike's?"
Dorabella, the easiest earth girl ever, gives it up pretty quickly to Guglielmo, while Fiordiligi stands fast ("Come scoglio"--Like a rock). But she crumbles midway through the second act with the opera's most moving aria ("Per pieta"--Have pity) and ultimately succumbs to Ferrando's impostor.
There's a lot of playful banter between the real-life Costa-Jackson sisters, Marina and Ginger (hugs, Patty-Cake, pillow fights) that gives dimension and credibility to their characters, They may not be ice-maidens of virtue, but they're more than high-class sluts (like, say, the Kardashians),
Traditional staging has both couples excusing the indiscretions because, after all, Così fan tutte: women are like that, fickle. The music is so joyful, it sounds like a romp, but contemporary foursomes can't switch allegiances so easily. You soon realize that a modern Così; is really a lot darker. For starters, no one seems to say "All men are amoral dogs."
As he staged the production here in 2006, the British director Jonathan Miller ends the opera with the wounded and disillusioned lovers all despising each other. Were they dupes or were they victims? Clearly the joke got out of hand,
In the end, the question that remains unanswered: #MeToo or #NotMeToo.
Added bonus: Ginger Costa-Jackson returns, by herself, to sing Carmen in May of 2019.
Seattle Opera presents Mozart's Così Fan Tutte through January 27th at McCaw Hall.