Angelo Pellegrini, Italian-born author of The Unprejudiced Palate and The Food-Lover's Garden, was devoted to the pleasures of a convivial table; his books--his life, in fact--inspired a generation of foodies in his adopted home of Seattle and throughout the country as well. He died in 1991 at the age of 88 and his books, sadly, are no longer in print.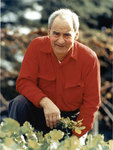 Pellegrini photo (L) by Bob Peterson
Now, Seattle seafood guru Jon Rowley is heading a campaign to create a memorial: a statue, a bench, an herb garden. Details in the current issue of Northwest Palate. Roger Downey also offers a tribute to Pellegrini in the current issue of Seattle Weekly. Surely this is a project we can all support!