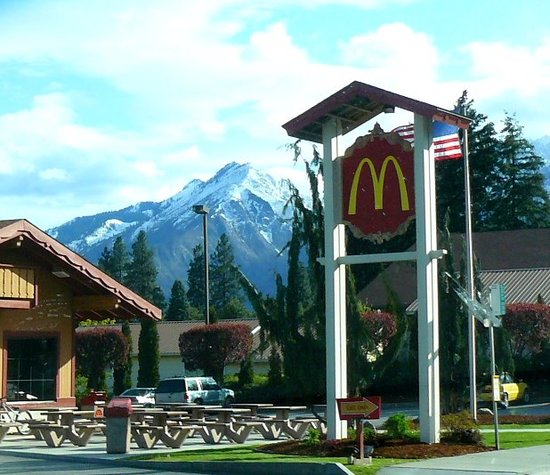 Cornichon spent a couple of days in Leavenworth recently as the guest of the Best Western Icicle Inn and Leavenworth Enchanted Tours (a wine-tour company).
There's a pair of golden arches in Leavenworth, though you might have trouble finding them. The McDonald's conforms to the town's sign code and is camouflaged beneath a German bonnet. The reason isn't idle aesthetics, the Bavarian motif is strictly business.
Hotels with names like Alpen Rose, Bavarian Lodge, Edelweiss and Ritterhof line a two-mile stretch of Highway 2; the turnoff to downtown Leavenworth is crammed with theme restaurants like King Ludwig, Gustav's and Gingerbread Factory. The bike rental shop is called Rad Haus, a pun on Rathaus, the German word for City Hall.
If you like sausages, sauerbraten and schnitzel, you'll be in heaven in Leavenworth. All but a handful of restaurants have a Bavarian, German or Austrian theme. Burger joints, of course, as well as a couple of Mexican taquerias and a couple of Italian trattorias. Among the better bets are two restaurants on Front Street owned by the Forchemer family, Cafe Mozart (upstairs) and Andreas Keller (underground).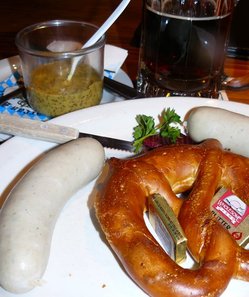 The wurst thing here was the best thing here: weisswurst from Seattle's Bavarian Meats. Accompanied by a warm bretz'n (a slightly crisp, doughy pretzel) with homemade mustard, a pair of these made for a satisfying lunch.The usual German suspects at dinner.
Cornichon did not love the vaunted red cabbage served upstairs. Far too sweet, far too much clove and cinnamon. On the other hand, the schnitzel (in this case pork) was flavorful and tender. Spaetzle were dry, however. Music was Mozart for a while, then Bach, then Chopin. (Hey, just play Mozart!, for heaven's sake.)
You might be tempted, after a day or so of Bavairan fare, to hunger for something other than bratwurst or schnitzel. Don't give in! The only alternatives are burger joints, a couple of routine Mexican places and two "Italian" restaurants. The Alley Cafe, specifically, bills itself as Italian; the food surely isn't. Fettuccine Carbonara was unseasoned despite the limp bacon, irrelevant mushrooms and loads of cream. Where was the cracked pepper? Where was the crisp pancetta? Where were the eggs, for that matter? Accompanying beans & broccoli were nuked from a frozen state without even a dash of salt. Tasteless and grim.
Cafe Mozart, 829 Front St., Leavenworth, 509- 548-6000

Andrea's Keller, 829 Front St., Leavenworth, 509- 548-6000

Alley Cafe, 214 8th St., Leavenworth, 509 548-6109